A lullaby played at the beginning of JRMC Foundation's Pillars of Giving donor celebration. On the second floor of JRMC Family BirthPlace, a new baby was welcomed into the world. At the same time, JRMC President & CEO Mike Delfs gave a birthday-themed address, reflecting on the past year of care, recent awards and sharing wishes for the future.
Speaking of births, only half of rural community hospitals provide obstetrics care, according to the American Hospital Association. Not only do we have a birthing center, we also have two employed OB/GYN providers. Dr. Gregg McAdoo and Dr. Emily Stromquist partner to provide regular access to specialty clinic services, advanced surgical options and 24/7 coverage for emergent obstetrics and gynecology.
"Over a decade ago, community leaders conceived of a new vision for Jamestown Hospital and what local, first-class rural healthcare could look like right here in our region," said Delfs.
"As we celebrate our 12th birthday in this location, that vision allowed expansion to 11 specialties and 18 providers, cancer services for hundreds of patients, and some of the most significant advancements in life-saving and life-changing diagnostic technology."
JRMC Radiology Manager Jason Schaffer expanded on women's health. "3D mammography at JRMC was the first and most advanced in the state when we brought it here ten years ago. Now we look to replace that machine and share that our care team, including Dr. McMillan and Dr. Reddy, can provide diagnostic mammography or ultrasound, biopsies, seed localization and sentinel node injections at JRMC."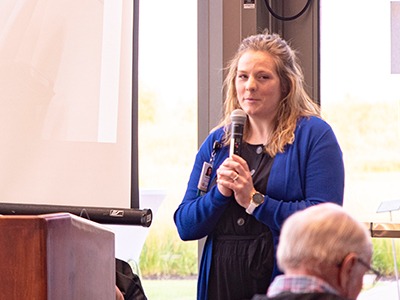 JRMC Nurse Practitioner Makenzie Breitbach shared that because of donor support, moms can now access lactation counseling visits at the JRMC specialty clinic. The clinic service will offer expert advice and personalized strategies from two lactation counseling providers.
"We are so excited to be here for you and really appreciate how people support care," says Breitbach.
The night closed with the announcement of outstanding leadership from supporters. Attendees celebrated Marlene &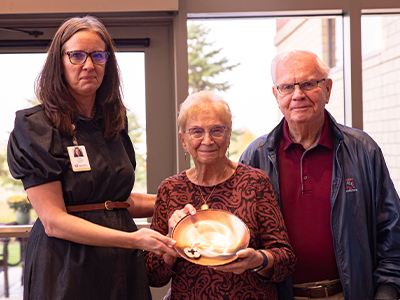 Charles Axtman as Philanthropists of the Year (POY). The Axtmans are passionate about community building, working on projects supporting their church, Kiwanis, St. James Basilica and JRMC. "We need this hospital, it's important," said Marlene. She has over 20 years of service to Jamestown Hospital and JRMC Foundation's board of directors. Both she and Chuck served as volunteers and campaign supporters throughout the years.
Alerus Financial and Pit Stop Sports both received the Community Difference Partner of the Year award for their leadership in business engagement and support.
"Alerus has been our partner for decades and helped JRMC Foundation create and grow the named endowment program," said Foundation Director Lisa Jackson. "Mike Hansen with Pit Stop Sports humbly stepped up and hosted a fundraiser which raised thousands benefiting families who experience infant loss."
Both businesses have a shared vision for helping others.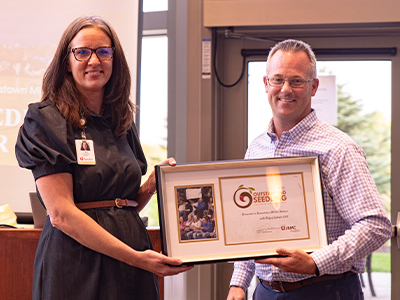 Jamestown Middle School (JMS) is the Outstanding Seedling for youth philanthropy for their continued efforts with an annual penny drive. JMS has raised nearly $194,000 over the last 26 years through its annual event. This year, the $8,310 raised benefited every new patient at the JRMC Cancer Center by providing them with a gas card. Principal Mark Stillwell accepted the award and said, "It's about helping others. This is who we want to be, this is who you want to be, putting yourself in front of others and understanding the difference you can make with a pocket full of pennies."
LEARN MORE