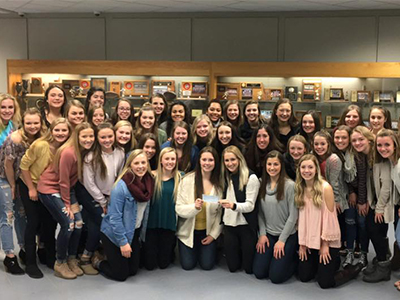 The Jamestown Blue Jay varsity volleyball team hosted its "Dig Pink Night" to raise money for breast cancer detection and treatment equipment at Jamestown Regional Medical Center. To celebrate a successful season, the team presented a donation to JRMC Foundation for more than $3,000.
Lady Jay players and coaches sold more than 200 t-shirts that were donated at cost by Wildside Creations. The fans in attendance also enjoyed Dilly Bars and bid on silent auction items. Additional supporters include University of Jamestown bookstore, Valley Plains Equipment, Shear Ashlyn, Kelly Erickson, Erin Lamp-State Farm, Dairy Queen and Coca-Cola.
"Throughout the season it was really fun to get to know these ladies. We always love doing Dig Pink. We are proud to wear the jerseys," said senior player Hannah Schiele.
Schiele is one of six seniors who helped promote the seven-year tradition of Dig Pink.
"It's really exciting for us to get dressed up and show support, but it means more to make a difference in peoples' lives, said senior Megan Gaffaney.
Throughout the years, Dig Pink funds have helped women who are undergoing cancer treatment. Those funds have also supported 3D Mammography equipment at JRMC. This year, proceeds will benefit additional screening technology.
"Early detection and treatment of breast cancer are key for the best outcomes. At JRMC, access to advanced technology and equipment makes that possible. In addition to 3D Mammography, we offer the No Excuses program to remove any barrier women have to receive preventative screenings," said Lisa Jackson JRMC Foundation Director. This includes financial support or women who are underinsured and uninsured pay for mammograms and Pap tests.
---