Family BirthPlace Manager Emily Woodley received recognition for her leadership Thursday.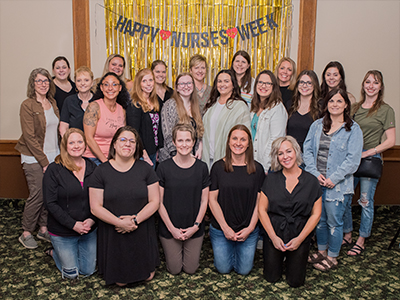 Jamestown Regional Medical Center (JRMC) nurses selected Woodley as their 2023 Nora Melvold Paulson Excellence in Leadership Award recipient.
The Nora Paulson award recognizes a nurse who is committed to excellence in nursing education and clinical care.
Woodley joined the JRMC team in 2000.
"Emily is a dynamic human," said JRMC Chief Nursing Officer Trisha Jungels. "She jumps in and will help anyone at any time, even at 2 a.m. When a fellow leader needed family medical leave to care for her child, Emily didn't hesitate to help. She began coordinating care in the other department."
Jungels said Woodley sacrifices for others and demonstrates her love for the people around her. Woodley fosters gratitude, grace and patience, even under pressure.
"Emily and I had to lead a very stressful meeting together. Fifteen minutes before, Emily came to my office and said, 'We are going to pray.' She prayed for peace, understanding, hope and collaboration. We left my office in sync and ready to face a difficult situation. I will never forget that moment," Jungels said.
Throughout her time at JRMC, Woodley has implemented several community-wide best practices to keep babies safe and healthy. Because of Woodley's leadership, the North Dakota Department of Health named JRMC its first gold-level honor for Kids Safe Sleep program. She is a certified lactation consultant and an active member in the James River Valley Breastfeeding Coalition. In 2016, Woodley spearheaded the Infant Friendly Workplace designation for JRMC. As part of her work, she created a comfortable, dedicated, private space for moms to pump breast milk. She also assisted in policy development to support flexible break/work scheduling for breastfeeding moms.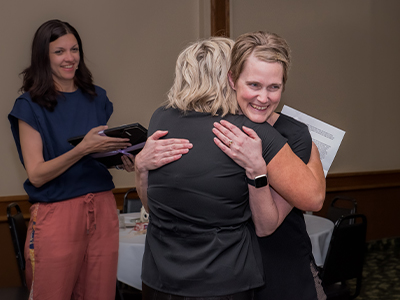 In addition to her work with mothers and babies, Woodley serves on several committees at JRMC including Leadership Development Institute, Reward & Recognition, Workplace of Choice, Nurse Advisory Board and is the organizer and facilitator for the Family BirthPlace Medical Staff Committee.
"Thank you, Emily for loving your JRMC Team alongside your patients," Jungels said.
Woodley attended Valley City High School and University of Jamestown. She lives in Jamestown with her husband, Mike, and their four children.
Nora Paulson History
The Nora Paulson Award recipient is voted upon by their peers. The award provides an annual grant to a JRMC nurse who consistently embodies a commitment to excellence in nursing education and clinical care.
Award recipients can use the grant at their discretion. Many use it for education and training.
JRMC also dedicates a plaque to all the award winners and features an image of the award's namesake.
Brian and Nancy Spector established this award nine years ago through the JRMC Foundation. The award honors the memory and legacy of Brian's grandmother, Nora Paulson, RN. Paulson dedicated her life to clinical excellence programs at what was then Jamestown Hospital.
Past Nora Paulson recipients include:
2022: Tara Simonsen, RN
2021: Jess Linderman, RN
2020: Jenna Bredahl, RN
2019: Lisa Schrenk, RN
2018: Marla Wegner, LPN
2017: Kacie Edwards Pahl, RN
2016: Courtney Cook, RN
2015: Lili Ruby, RN
2014: Allison Danzl, RN
2013: Renae Lunde, RN
LEARN MORE: