Tina Bryn said cancer changed her a little, and not just her hair.
After a cancer diagnosis in July 2021, the 47-year-old said she is more apt to enjoy memories with her family rather than take on extra tasks.
"Work will be there tomorrow. I don't have to take it home," said the mom of three – Allison, 16; Peter, 19 and Shannon, 21. "It's OK to say no to things."
Jamestown Regional Medical Center, in partnership with Sanford Health, opened the JRMC Cancer Center in 2019. Bryn rang the bell on Thursday, Sept. 1. Previously, her hair was strawberry-blonde and shoulder-length. Her hair is short and dark now – a change Bryn said she wants to keep.
"I like it like this," she said. "It's easier."
Her daughters said they have changed too.
Shannon, who attends school at the University of Jamestown, said she deliberately came home more often instead of staying at school.
"Even if I just went home to mow the lawn, I wanted to help," she said. "I think it's important to see family when you can, while you still can."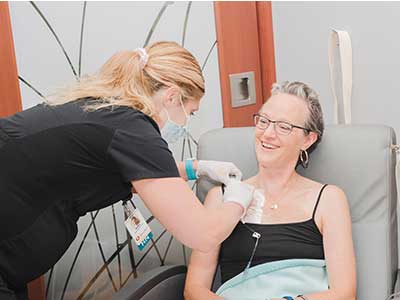 THE JOURNEY
Though she was up to date on mammograms, Bryn said she felt a lump one morning as she was changing clothes. Seventeen days later, doctors met with her to discuss a mastectomy of her left breast.
Six-hour chemotherapy infusions and 33 radiation treatments followed.
The Barnes County North (BCN) educator would spend the night in Fargo, arrive at 8 a.m. for treatments, leave directly after and drive to BCN. The daughter of cattle ranchers from Langdon, N.D., Bryn smiled when she says she grew up stubborn. She took pride in not missing many workdays.
Bryn said the community support humbled her, including the Dig Pink volleyball game at BCN. Students raised funds and then donated them to Bryn and her family.
Allison played on that team and remembered fellow athletes and students supporting her and her family. Teachers helped them too. In homeroom, for example, Allison's teacher allowed her to FaceTime her mom, so the two could keep each other company during those six-hour infusions.
"The school has been phenomenal. The community has been phenomenal," she said. "I like to be the helper, so to be on the receiving end was very different."
Initially, Bryn said she and her family planned to keep the cancer news close. She didn't want people to know. That decision changed when Bryn learned she would need chemo and that her hair might fall out.
"Don't be afraid to ask for that support and admit you can't do it," she said. "No one can walk this journey alone."
THE GRADUATION
Ring this bell
Three times well
 Its toll to clearly say,
My treatment's done
This course is run
And I am on my way!
In the company of her daughters and cancer center nurses, Bryn read these words before ringing the JRMC Cancer Center bell.
The Espeseth family donated the bell in memory of their late matriarch, Marsha Leigh Espeseth. After a seven-year battle with breast cancer, Marsha passed away in 1987. The Espeseth family donated the bell to support people who would ring it one day and honor those who, like Marsha, never would.
Bryn said thinking about the crosses others bear – cancer and other diseases – helped her on her journey.
"When you put that in perspective, I think, 'I can do this,'" she said.
Today, she is grateful for her care teams from both Essentia and JRMC. She especially appreciates how both teams accommodated her schedule and travel needs.
"They are definitely in their right positions, in the right department," she said.