Two businesses are tripling Giving Hearts Day gifts during an electric utility power hour.
On Giving Hearts Day, gifts of $10 or more are matched – up to $40,000. Individuals can even triple their love from noon to 1 p.m. thanks to the Otter Tail Power Company and Northern Plains Electric Cooperative (NPEC) power hour, said Lisa Jackson, Foundation Director for Jamestown Regional Medical Center (JRMC).
"Thanks to these generous sponsors, all gifts received during the noon hour are tripled, up to $10,000," Jackson said. "These gifts benefit the future of patient care."
JRMC welcomes the public to join in Giving Hearts Day festivities – snacks, lunch, prizes, etc. – in JRMC's Apple Basket Café from 9 a.m. to 4 p.m. Thursday, Feb. 9.
"If we meet our power hour goal, we plan to 'light up' our Apple Basket Café. We hope the community will join us in person to make their gift and celebrate this special day," Jackson said.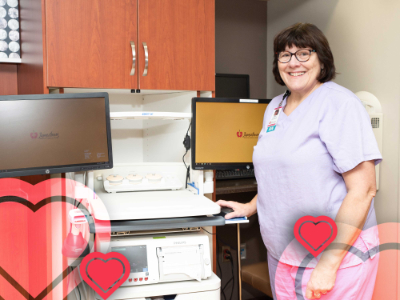 Otter Tail Power takes pride in serving the community, said Jeremy Rahm, area manager for Otter Tail. Rham also serves on the JRMC operations board.
"We did this last year," Rham said. "When we discussed it, we decided it was absolutely something we wanted to be part of again."
DOUBLE THE LOVE
Giving Hearts Day supports the future of patient care including key initiatives and service lines that wouldn't be possible like cancer care and hospice. The day also supports JRMC's ability to attract talented surgeons and secure innovative technology to advance care.
"As a provider, this support helps us offer the best care to patients,'" said Dr. Rachael Renschler, podiatrist/foot & ankle surgeon. "New equipment means we can better serve Jamestown and the surrounding communities."
Dr. Renschler joined the JRMC team about six years ago. Today, she is the chief of clinics and also offers outreach care at the JRMC Carrington Clinic.
"The more I've become involved with the hospital, the more I've wanted to stick around and be a part of it. Jamestown puts people first. Both the patients and the employees are a big priority," she said.
Generous supporters helped JRMC purchase equipment that aids in offering the highest quality of care. For example, the community helped fund the:
Northern Plains is involved this year because its purpose is to power rural communities, said Seth Syverson, NPEC general manager.
"JRMC cares for individuals in Jamestown and the surrounding region. In three years, the cancer center alone supported individuals from at least 40 communities and saved than more than 500,000 miles of travel. Supporting these individuals is important to our co-op and to our board," he said.
This year, Giving Hearts Day is set for Thursday, Feb. 9. Since 2009, JRMC has raised more than $900,000 on this day.
LEARN MORE: