The stakes were twice as high for one New Rockford couple.
Tia Davis and Tyler Weber welcomed twins – Jeffrey and Jayla — on Oct. 24. The pregnancy progressed as expected, though the delivery and postpartum experience was anything but.

When miles and seconds matter, Davis and Weber needed Jamestown Regional Medical Center. If Davis didn't receive excellent care – and fast – Weber worried about raising two babies without their mother.
"That was my worst fear," he said. "We're so fortunate to have her home."
As an expecting mom, Davis doctored with Nurse Practitioner Chelsey Zeltinger at CHI St. Alexius Health Carrington Medical Center. At 32 weeks, Davis transferred her care to Sanford Jamestown and Dr. Rachel Wanzek.
Until then, Davis said she experienced no health troubles and felt as well as she could while carrying twins.
That changed at her 36-week appointment. Dr. Wanzek expressed concerns and sent Davis to JRMC because Davis was pre-term and suffered from preeclampsia. Preeclampsia is a serious blood pressure condition that can occur during pregnancy.
"I had the perfect pregnancy until that day," Davis said.
Dr. Wanzek used the fetal heart monitor to see the babies' heartbeats.
JRMC purchased a fetal heart monitoring system about four years ago, thanks to the community's support. One of the many benefits of the fetal heart monitor is physicians can view the results from anywhere – including their offices off-site.
BETTER 'TWO-GETHER'
Generous supporters helped JRMC purchase the $200,000 fetal heart monitoring system on Giving Hearts Day 2019. This year, Giving Hearts Day is set for Thursday, Feb. 9. JRMC is asking the community to "twin" with Jeffrey and Jayla and help raise funds for the future of patient care. On that day, gifts of $10 or more are matched – up to $30,000. Individuals can even triple their love from noon to 1 p.m. thanks to a $5,000 gift from Otter Tail Power Company.
Dr. Wanzek knew Davis and the twins needed a higher level of care. She transferred them to Bismarck, where Davis later delivered.
"We appreciate the fetal heart monitoring system because it makes laboring moms more comfortable. The system is especially helpful for moms who are high-risk," Dr. Wanzek said. "The people whose gifts supported this purchase deserve a thank you. Those gifts save lives."
Today, the babies are healthy.
"They are growing right along as they should," Davis said.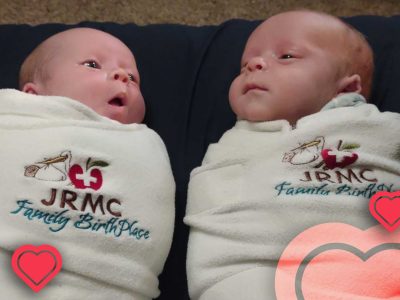 However, her health remains in "distress."
Since delivery, Davis has experienced challenges with her liver, kidneys and later, a blood clot in her heart. JRMC admitted her. Twice.
"Honestly, the care at JRMC was amazing," Davis said, saying she specifically remembers two registered nurses on the Patient Care Unit – Lili Ruby and Catie Kautz.
"They were super friendly. They work with a smile on their face. You could just tell that they were there to help lift spirits," she said.
Today, Davis is working on recovery. She continues to travel the 50 or so miles from New Rockford to Jamestown for care with Dr. Wanzek and at JRMC.
"Our little family is grateful to JRMC and the community. We wouldn't be here without them," she said.
LEARN MORE: