Jack Talley is, by all definitions, a good kid.
He made the dean's list at the University of Jamestown. He's a member of the homecoming court. He's a captain of the UJ basketball team and even made the school's all-decade team last year.
When he isn't in class or on the court, he's also a member of the UJ Student Senate and an active participant in Samaritans Feet which provides shoes to children who would otherwise go without.
He's also an in-shape kid. Or, an adult rather as he turns 22 in November.
This summer, his exercise regimen included three workouts each day — a workout in the morning, team practice in afternoon and in the evenings, another workout or weightlifting. Some days, he also attended active recovery, a demanding form of physical therapy.
After his diagnosis, however, all that changed.
Talley tested positive for the novel coronavirus (COVID-19) in September.
Since then, the state has topped nationwide lists, reporting some of the highest numbers of new cases per capita in the country.
Fewer than 20% of North Dakota's population is 20-29 years old, yet, that age group makes up more than 28% of the positive COVID-19 cases in North Dakota. Of more than 23,000 positive COVID-19 cases in North Dakota, more than 6,000 have occurred in individuals ages 20-29.
Despite what some might say about college students and their after-school social activities, Talley and other athletes formed a pledge: for their safety and the safety of their teammates, they would limit their physical interactions with others. Talley said he avoided parties and mass gatherings, though he continued to practice with the team and attend class in person.
"Parties and those things are going on but as athletes, we made a deal that we wouldn't participate. I tried to hold true to that to the best of my ability," Talley said, saying he doesn't know how he contracted the virus.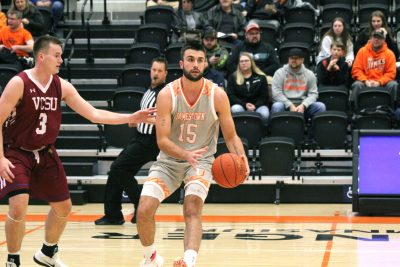 His initial recovery met expectations. He quarantined for 14 days. He followed the athletic department's protocol of incrementally returning to practice with medical clearances. Life moved always forward, as they say in the Talley home.
Until one day, it didn't.
Talley didn't feel well at practice one day, something he attributed to returning to shape after a less rigorous workout routine. Ever the athlete, he pushed through the pain.
"Jack is like any senior, he wants to be back in the game," said Head Basketball Coach Danny Neville.
The next few minutes of practice are hazy, Jack said, however he remembers a teammate tapping him on the shoulder, "Are you going in, man?"
Talley shook his head.
He took a chair instead, sitting down and holding his chest.
"My heart rate was really, really fast and I couldn't get it to slow down. I couldn't breathe either."
A coach drove him to the Emergency Department at Jamestown Regional Medical Center where the medical team treated his symptoms.
Lasting repercussions like Talley's are the concern, said Dr. Kent Diehl, JRMC Emergency Department Physician.
Adhere to the guidelines from the Centers for Disease Control and Prevention, Dr. Diehl said, like hand washing and physical distancing.
"Wear your mask," he said. "It's amazing to me that we're at the COVID numbers and that people aren't paying attention. This young man is in peak physical condition and now he doesn't know if he can play again this season."
Most people will recover but 10%-20% will have lasting implications, Dr. Diehl said, saying every day the JRMC Emergency Department sees COVID patients struggling to breathe or with severe chest pain.
"JRMC took great care of me. It was fast and quick," Talley said.
Tests followed as well as a trip to see a cardiologist in Bismarck. Doctors diagnosed him with Pericarditis and Costochondritis, inflammation of the heart and lungs, respectively.
"If this can happen to a starting forward of an award-winning collegiate basketball team, think how it could impact any of us," said Mike Delfs, JRMC President & CEO. "We may have a quick recovery and we may not – you just don't know."
Talley wasn't the only one on the basketball team to contract the virus, though he did have one of the most challenging recoveries.
"Even though you're sitting out or not healthy, you have guys that lift you up," Neville said, saying the culture of the team is equally important as the athleticism of the team.
UJ Men's Basketball has a lot to live up to this year. After receiving the Great Plains Athletic Conference title in 2018-19, the team has high expectations for 2020.
Medication should help and doctors expect Talley to regain his strength – they just don't know when. The UJ Basketball season begins Oct. 23 and Talley is still unsure whether he'll get to play.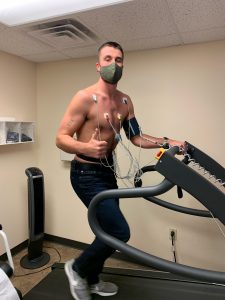 His heart is struggling in more ways than one.
COVID's impacts on his athletic and academic career are "heartbreaking for sure," Talley said, for him and his classmates.
The other heartbreaking part? While he was diagnosed and in hospitals, awaiting tests, he had to do it alone.
Talley's parents live in Sioux Falls, S.D. Driving up to support their son would have added to the potential risk, said Dave Talley, Jack's father.
"Of course we're very worried. As a parent removed in this way, it is hard to help. It is more dangerous to go and help than to not," Dave said. "If your kid had a broken foot, you'd go up there and you'd do what you could. Anything that is not transmissible, you would be up there. You would help them."
Whatever the impacts of Jack's diagnosis on his season, the athlete says he'll remain positive. He intends to graduate this year with a degree in political science. He hopes to travel the world and serve his country. He also hopes to earn a doctorate one day.
"We're disappointed about his basketball season because the sport has been his life," Dave said. "Even still, I think his greatest successes are yet to come."
Moving forward, Jack says he realizes the response to COVID-19 can be a controversial one.
"The best I can say as a college kid – don't make something that's scientific become political. Listen to healthcare professionals. They only have your best interest in mind."
No matter a person's beliefs, Jack said, all people can get behind protecting the vulnerable.
"You don't want to be selfish. It's one thing if you don't care about getting sick. What happens if you get a little kid sick or an old person sick? They don't deserve it just because you don't think something is real. Take care of yourself, take care of others. Everything will be alright."
To learn more about COVID-19, visit the Centers for Disease Control and Prevention. View the UJ Men's Basketball schedule.