Editor's note: Dr. Steve Inglish, Emergency Medicine Physician at Jamestown Regional Medical Center, shares information on the novel coronavirus (COVID-19) in a question and answer format. He joined JRMC in 2018.
Question: COVID-19 is a respiratory disease that has spread from person to person and though there's currently no vaccine available, emergency departments can help if you are at higher risk for the disease or are experiencing known symptoms. What are you seeing and experiencing in the JRMC Emergency Department?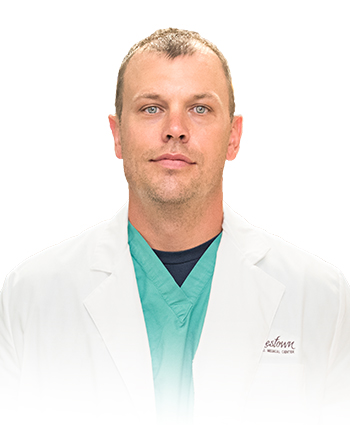 Dr. Inglish: JRMC hasn't had any cases, thank goodness, but I'm sure that's going to change here in the near future. It's kind of difficult to know what to prepare for. We look out West and out East and see how these larger cities are getting a big surge of patients and we're at this time preparing to see that surge. I don't expect that we'll see as big of a surge as a big city, as we are able to social distance a little bit better here in North Dakota than say, New York City. But I think we will, we'll see a surge enough to maybe put a test on our capabilities of handling a number of patients and a number of severe critical patients. Right now, mostly what we're seeing in the community is a lot of anxiety because of the unknown. We don't know how it's going to affect our community. We don't know how many people are going to get infected and we don't know if we have enough staff to meet the surge that might be coming. We believe we do. And we're preparing as much as we can for that. But again it's just the anxiety and the fear of the unknown. So we do see some people coming into the emergency department saying we have all or that they have all the signs and symptoms of COVID-19. And unfortunately, most of the signs and symptoms of COVID-19 kind of imitate influenza. So most of these patients are coming in with influenza thinking they have COVID-19. COVID-19 isn't a death sentence. It is very serious and we have to respect it. But if you have COVID-19 that doesn't necessarily constitute an emergency, it's the shortness of breath problems, breathing, chest pain or discomfort that would constitute that emergency.
Question: How is JRMC doing and situated with masks and gloves and those types of things?
Dr. Inglish: Right now I'm looking at our supply. I think we have enough, but if we should have a surge, I don't know. At JRMC, we're preparing for the worst. So if we're preparing for the worst, we still probably do not have enough personal protective equipment (PPE). It's all the unknown at this point. We, again, don't know how many patients are going to be affected by this. We don't know how many medical providers, nurses, doctors, respiratory therapists, x-ray techs are going to come down with this, to the fact where they may need to be quarantined or need to be out for a couple of weeks. So now we have new people coming in and also using the protective equipment. I will say that we appreciate anyone willing to donate unused N95s or regular surgical masks or even the industrial N95 masks because again, we don't know and we definitely don't want to be in that position where the providers are short PPEs. And it's not that we're trying to be selfish saying, hey, we need this PPE to keep us from being sick. So we don't go down with this and we're not handcuffed by this, but where we're saying that we want this PPE so that we can remain healthy so that we can help the patients that are coming in that need that critical care because there's no worse feeling in the world where you need the help and there's no one else there to provide that help that you need.
Question: Real heroes on the front line need to be prepared. Who's at the highest risk for COVID-19?
Dr. Inglish: The people at higher risk are usually people over 55, 60 that have comorbidities. And when I say comorbidities, I mean health problems like diabetes, heart failure, hypertension or high blood pressure, coronary artery disease at high risk of heart attacks. Basic immunocompromised like diabetes would also constitute as immunocompromised, but people that have weakened immune systems would be at very high risk. I don't want to shortchange younger people like probably you and me that are also at a bit of a risk, where it's not uncommon to hear some of these young people out there that are still fighting for their lives on ventilators, needing help breathing. It's shown that this disease will cause something called acute respiratory distress syndrome and it's severe inflammation of the lungs and it makes it really difficult for even us to help you breathe because the lungs aren't working the way they're supposed to be and also shows that it can cause inflammation of the heart. Something called mild carditis and that's inflammation of the muscle of the heart. And, it's very serious. And there unfortunately really isn't any proven treatment for this yet. So young people that are going out thinking that they are immune to this or won't get severe symptoms, they well could be wrong.
I'm finding that the older generation is, and excuse my language for saying older generation, but they're really heeding the advice and staying inside. So if they do get the disease, obviously they're at higher risk. But I find that I think less of them are getting the disease cause they're heeding that advice to young people are going out thinking they're immune and now more of them are getting that disease or getting COVID-19 and spreading it and also getting the superior effects as far as the very low risk would be children, especially under nine or 10 years of age. They think that there are certain receptors on the child cells that aren't developed as much as the adults are. And that receptor is what the COVID-19 fire uses to get in and cause the infection. So they feel that the children are less risk. And that's not necessarily true with the immunocompromised child, but true for the healthy child. But then they can turn out to be super-spreaders where they have the virus, they have very minor symptoms. People think it's just a minor cold and then they take them to see grandma and grandpa and then spread it to these more at-risk populations.
Question: Is JRMC doing drive through testing yet? Has it come to that yet? Do you have any tests available? How are patients being screened?
Dr. Inglish: Yes, there's drive-thru testing available at Essentia Health and Sanford Health. They are separate entities, but we're trying to work together with both Stanford, Essentia Health and us JRMC. Sanford and Essentia are the drive up testing and basically what they ask is to call ahead to see if there are tests available because unfortunately although the Centers for Disease Control and Prevention (CDC) and the North Dakota Department of Health have these guidelines on testing, we are still short of tests, believe me, we would love to test everyone that came in the door and ask for the test, but it's just, it's impossible due to the number of tests. You might look on the CDC website and say, okay, I meet all of those criteria. I should get a test. It's very likely that you might not get tested at that point just due to the number of tests we have and we're not trying to hinder you getting a test, but we want to try to see if those tests are the most at-risk population and especially when we get that surge, we will run out very, very, very quickly. So just call ahead if you have questions. There are hotline numbers that are posted on social media.
Question: As you say, there are a limited number of tests so people do have to be screened, don't just show up, but great to know that there is drive through testing available. Dr. Inglish, what's your best advice for avoiding COVID-19? For staying healthy? Whether that's mentally or physically?
Dr. Inglish: First of all, I think that physical health is directly related to mental health. And I wish I had the greatest answer of how to stay mentally healthy for those that have the luxury of having family right with you there. Please savor that time together because kids go to school, and it kind of limits the time that parents have with their kids. So savor that time. I guess I've started meditation. I've never thought I'd ever meditate in my life. I would have laughed three weeks ago if you would've said that I would be meditating. But there are websites out there that kind of explain to you how to meditate and take that time for yourself to clear your mind and think of absolutely nothing. Take a rest from the news. Take a rest from social media and just be by yourself for 30 minutes a day, as much as you can, you know, get outside. And some people have the luxury of, you know, kind of living in wide-open spaces. Take advantage of that walk, run, take time to stop and smell the flowers.
As far as staying healthy, I'm going to tell you the same thing that they say on TV that they see on the radio, to wash your hands, cover your mouth with your elbow, the crease of your elbow when coughing or sneezing. If you have any of those symptoms, please stand aside. In fact, you should stay away from people as much as you can right now as we speak. It doesn't matter whether or not you think you have the virus or not. When you wash your hands, make sure you take your ring and your watch off cause that virus definitely can get underneath those things and washing your hands with those things on you're not going to get that virus off. Tough not to hug or kiss your kids or your wife or your husband or whoever, you may be kissing at this time or hugging at this time. But at this point, it's probably better not to be doing any of that. If you do have the virus, you suspect that you have the virus and you're at home, try to social distance yourself from your family. You have that luxury to live in a different part of the houses as they are. That would be the best.
As always, if you feel you might have COVID-19, please call your primary care provider by phone. The care team will determine whether you need testing. Both Essentia Health and Sanford Health clinics are offering COVID-19 E-visit screenings at no cost to patients.
To protect patients and staff, please limit in-person visits. Please call ahead of you choose to visit the Emergency Department. The number is (701) 952-4578.
Listen to the entire podcast from Doctor Podcasting host, Scott Webb.