Imagine that the world had invented a new 'dream product' to feed and immunize everyone born on Earth. Imagine also that it was available everywhere, required no storage or delivery—and helped mothers to plan their families and reduce the risk of cancer … UNICEF, 1991.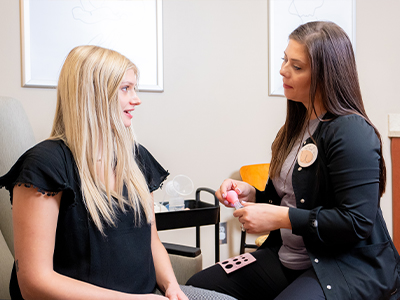 In September, the JRMC Specialty Clinic added lactation counseling to its women's health options. Although JRMC's Family Birthplace (FBP) already has certified lactation counselors on staff, not all women leave the hospital with the confidence they need to have a successful breastfeeding journey.
Nurse Practitioner Makenzie Breitbach and Registered Nurse Mercede Fiebiger provide certified lactation counseling. As moms too, they know first-hand confidence plays a tremendous role in breastfeeding success. They are also both members of the James River Valley Breastfeeding Coalition.
"We hear the concerns all the time," said Breitbach. "Milk supply, discomfort, latching issues—and while we have that help, most moms ultimately need patience and support."
With the help of the coalition and generous support from the JRMC Foundation, JRMC has created a dedicated space in the specialty clinic for mom, baby and counselor.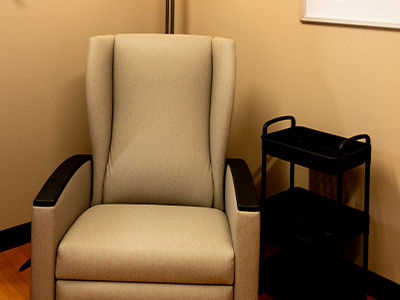 "The atmosphere is far more comforting than an exam room," said Fiebiger, who is not only a registered nurse, but also the Manager of the JRMC Specialty Clinic and JRMC Cancer Center. "Putting you at ease in an environment that encourages relaxation is part of how we increase your chances for success."
Fiebiger has nine years of neonatal intensive care experience as well. She is passionate about moms and babies and shared that establishing trust is her main priority in delivering care.
Breastfeeding is different for everyone, and the journey is very personal. Moms can expect their visit to include a couple of simple assessments, including baby's latch, positioning, comfort and even weighed feedings to confirm that the baby is getting enough milk.
"Along with confidence, the most common challenge we see is one most moms don't even recognize," said Breitbach. "Success is not one size fits all. A proper nipple sizing and flange fitting for a breast pump can make all the difference in turning an exhausting experience into a rewarding one."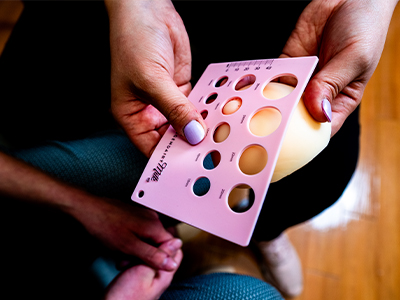 An early visit to a lactation counselor increases your chances of success. In addition to early support, JRMC lactation counselors are on hand to help with feeding schedules, back-to-work strategies, tips for increasing milk supply, strategies to resolve any painful issues like sore, cracked nipples or breast engorgement and to connect you to other supportive resources in the community.
The new lactation clinic is made possible by a contribution from retired physician Dr. Glenn Wiens. Dr. Wiens retired from Essentia Health in 2022. Though he worked for Essentia, he was a rotating hospitalist at JRMC and delivered babies in the JRMC Family BirthPlace. He loved working with the nurses and families at JRMC so much he wanted to give back.
His gift to the JRMC Foundation extends beyond the lactation clinic and has also supported the purchase of a portable infant resuscitation trainer and advanced training in fetal heart monitoring.
Lactation counseling services are typically a more urgent need. JRMC recommends calling (701) 952-4878 to arrange your appointment.
LEARN MORE: