Tuesday was a bittersweet day for one breast cancer survivor at Jamestown Regional Medical Center.
As the first to ring the bell at the JRMC Cancer Center, she thinks of the people who did not have the same chance.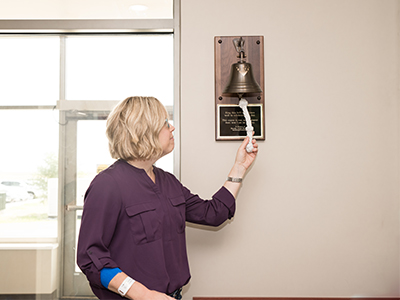 "It's kind of joyous, but the fact is, this is a serious condition," said Kari Smith of Carrington, N.D.
Smith has had an overwhelming six months. Diagnosed with Triple Negative breast cancer in April, doctors performed a mastectomy in May. Chemotherapy treatments began in June.
Hearing the news was "pretty shocking," she said, even though she thought she had prepared for it.
Her husband, Kerry, attended several of her eight chemotherapy appointments, including her last on Sept. 17. He said he tried to stay strong for her.
"I didn't handle the news very well," he said. "But I didn't let her know that."
One in eight women will receive a breast cancer diagnosis in her lifetime, according to the American Cancer Society. Catching it early can mean the difference between keeping the breast or needing surgery to remove it.
Triple-negative breast cancer is cancer that tests negative for estrogen receptors, progesterone receptors, and excess HER2 protein.
These results mean the hormones estrogen and progesterone or by the HER2 protein do not fuel cancer. So, triple-negative breast cancer does not respond to hormonal therapy medicines or medicines that target HER2 protein receptors. Still, other medicines are used to successfully treat triple-negative breast cancer.
In Smith's case, her Oncologist Dr. Shelby Terstriep, ordered eight four-hour rounds of Adriamycin/Cytoxan followed by taxol. Once the JRMC Cancer Center opened this summer, Smith could have her treatments here. Previously, she'd received them at the Roger Maris Cancer Center in Fargo.
"This cancer center is a huge benefit for the area," Smith said. "It reduced our drive time from four hours a day to less than two."
About 10 percent to 20 percent of breast cancers are triple-negative breast cancers.
Now that her treatments are over, her husband wants to celebrate with dinner, whereas Smith joked that she may do laundry instead. She can also return to her normal routine of working at Farm Credit Services.
The couple said they are grateful for their support team, including family, friends, coworkers and Smith's bowling team. More than a dozen of them surprised Smith at her bell ringing.
"You all came here from Carrington?" she said in surprise.
Smith's friend supported her in many ways – meals, rides to treatment, listening ears.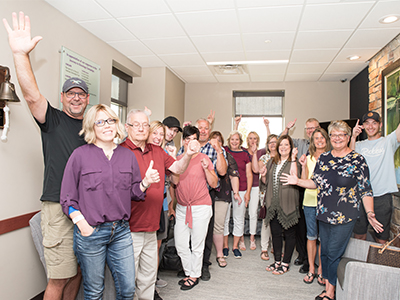 "You find out you have a lot of friends," Kerry Smith said. "You see how much they support you."
Support is important when it comes to cancer care.
As October approaches, Kerry Smith said he plans to update his wardrobe. He plans to introduce pink to his closet, in support of others like his wife.
"She's a tough cookie," he said. "She handled it better than I would."
Kari says she will continue to support her others and encourage them to receive their preventative services like mammograms and cervical screenings.
Based on national utilization data, 1,346 Stutsman County women over age 40 have not had their mammograms in two years. About 3,000 of them are behind on their cervical screenings.
"It's better to know than to wonder," she said. "Catching it early is better than catching it late."
Jamestown Regional Medical Center, in partnership with Sanford Health, opened the JRMC Cancer Center in 2019. The JRMC Cancer Center serves 100 people from Sanford and other healthcare organizations in the Jamestown area each month, saving more than 160,000 miles of travel each year.