For the TENTH year in a row, The Chartis Center for Rural Health recognized Jamestown Regional Medical Center (JRMC) as a 2023 Top 100 Critical Access Hospital. This recognition program honors performance among the nation's rural hospitals based on the results of the Chartis Rural Hospital Performance INDEX™.
"The work we do is not for awards, yet, we're grateful for them. Awards indicate the great patient care we deliver," said JRMC President & CEO Mike Delfs. "Our teams continue to exceed expectations. This is evidence of that."
JRMC received this recognition last year. It also received the Top 20 designation in 2022.
The National Rural Health Association announces the country's Top 20 Critical Access Hospitals each May. Top 20 Critical Access Hospital recipients are hospitals that achieve success in the overall performance based on a composite rating from Chartis' eight indices of strength.
"This medical center has a bold vision. That vision is to be the best rural hospital in the county for patients to receive care, employees to work and providers to practice," said JRMC Board Chair Mark Anderson. "Receiving a Top 100 award – for the tenth year in a row – tells me that our vision is within sight."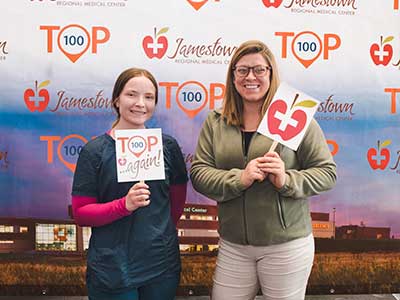 Nationwide, JRMC is one of 1,300 critical access hospitals.
TOP 100 NATIONWIDE
"Our 350 difference makers deserve the credit," Delfs said. "Because of them, the community can feel confident in not just the quality of our healthcare, but in the strength of our independent organization."
Since opening the doors of its new facility in 2011, JRMC has committed to elevating rural healthcare by responding to community needs. Key initiatives include:
growing the availability of surgical specialists that choose Jamestown as their home base for care
staffing the emergency department with 24/7 employed physician coverage
ensuring round-the-clock availability of general surgery and specialized obstetrics
JRMC is also among the first in the state to offer new technologies like 3D mammography and hyperbaric oxygen therapy.
Advancements on the horizon for JRMC include adding dedicated specialists in hospital (inpatient) medicine. In addition, JRMC is exploring ways to be ready for the next generation of tech-savvy healthcare consumers.
The Hospital Strength INDEX® uses publicly available data to assess rural hospital performance in eight pillars: inpatient market share, outpatient market share, quality, outcomes, patient perspectives, costs, charges and financial stability.
"Across the nation, Top 100 rural providers continue to serve as a source of inspiration for hospital leadership teams and staff working diligently every day to improve care delivery within their local communities," said Michael Topchik, National Leader of the Chartis Center for Rural Health. "The list of award winners in each category is geographically diverse, which is wonderful to see. We're thrilled to honor the outstanding efforts of these top-performing rural hospitals."
LEARN MORE