In March, JRMC Foundation kicked off its "GreatfFUL!" Employee Giving Campaign. Employees exceeded the campaign goal and raised more than $41,000.
The campaign demonstrates the gratitude employees have for each other and their commitment to caring for patients. In the past 26 years, employees gave more than $873,000.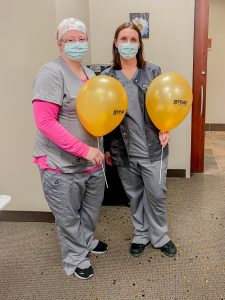 Donations support cancer care, hospice, equipment and technology, infant loss and bereavement, family birthplace, Employee Support Fund, Kala's Korner and the Greater JRMC Fund – our greatest needs fund.
"The hospital is good to us. I can't think of another job that takes care of people the way the hospital does and I've been a lot of places," said JRMC Nutrition Services Aide and supporter, Elayne Hartman. "The hospital looks out for us and we have to lookout for it. I support the JRMC Cancer Center and the Employee Support Fund because that has impacted me."
DIFFERENCE MAKERS
"Our employees are incredible. They see first-hand what our patients and their families need and their commitment by making donation proves how much they care – to them, it's not just a job – it's their mission," said JRMC Foundation Director Lisa Jackson. "Almost 100 employees gave back some portion of their earnings because they want to make a difference."
Alerus Financial provided a matching gift to launch the campaign and local businesses provided support, donating over 100 prizes to thank the staff for caring for our community.
Employees also receive paid time to participate in community volunteer opportunities as a benefit of giving.
For all of these reasons and more, its why care at JRMC is award-winning. For the ninth year in a row, the National Rural Health Association named it a Top 100 Critical Access Hospital out of 1,300.
"This hospital takes great care in everything we do," said JRMC President & CEO Mike Delfs. "That stretches from the time people enter the door at admissions to phlebotomists drawing blood, environmental services cleaning rooms and providers offering specialty care. Every department participated in this campaign to donate to the future of patient care. The region should be very proud."
LEARN MORE