Jamestown Regional Medical Center's Auxiliary is holding a salad luncheon to support JRMC patients and the future of rural healthcare.
The luncheon is set for Thursday, May 11, from 11:30 a.m. to 1 p.m. at Temple Baptist Church. Attendees will be able to choose from a variety of homemade salads. The Auxiliary luncheon offers an opportunity to connect with friends and supporting a great cause.
JRMC Foundation Director Lisa Jackson appreciates the JRMC Auxiliary's generosity.
"The Auxiliary is part of this hospital's legacy," she said. "For 50 years now, these individuals have supported infant comfort and safety, cancer care and the future of our medical center. The Auxiliary has raised more than $450,000 and they hope to hit the $500,000 mark this year."
The cost to attend the luncheon is $10 per person. Tickets are available in the JRMC Gift Shoppe or at the door. All are welcome.
Auxiliary members Mary Engels, Kay Hust and Joyce Steele chair the event. Engels said the luncheon is an excellent opportunity to connect with friends and support a great cause.
"Hosting these fundraisers is important to the Auxiliary and me personally because it supports our local medical center. We hope people can attend in support of the wonderful providers and staff at JRMC," she said.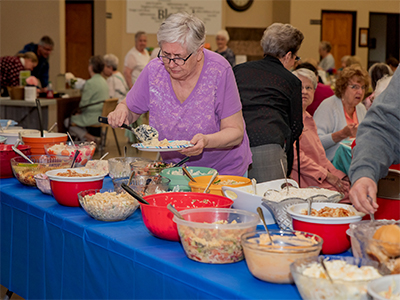 JRMC's Auxiliary meets the first Monday of each month and is always interested in new members. Auxiliary members proudly serve as ambassadors between the hospital and the community. They do this through increased community awareness, health-related education and fundraising initiatives. The group also facilitates events like Tea for All Seasons, Spring Bazaar and Holiday Open House. Its goal is to raise funds in support of JRMC's mission.
"People should join the Auxiliary because we learn the latest JRMC updates, enjoy fellowship and support the future of patient care," Engels said.
To learn more or join, call the JRMC Foundation at (701) 952-4880.
LEARN MORE