Potato, noodle and Snicker apple salads supported the future of rural healthcare this month.
More than 150 people attended the Auxiliary Salad Luncheon May 11 at Temple Baptist Church. The event set a record for attendance and raised $1,535 for patient care at Jamestown Regional Medical Center.
Auxilians Mary Engels, Kay Hust and Joyce Steele chaired the event.
"We love the salad luncheon because we support giving back to the medical center," Steele said. "I enjoy this work. It keeps me busy."
JRMC Foundation Director Lisa Jackson appreciates the Auxiliary and their decades of hard work. The current auxiliary celebrates its 50th anniversary this year. This group pioneered JRMC's Telecare program and Gift Shoppe.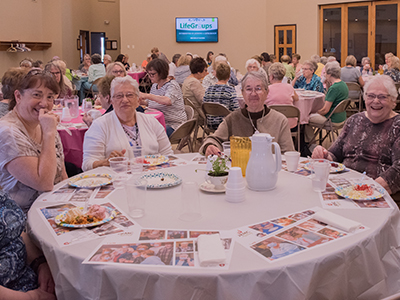 "We applaud the success of this group," Jackson said. "Their dedication ensures JRMC can continue to offer legendary care to the North Dakota heartland. Auxilians are among the 90 volunteers who donated more than 5,000 hours to the medical center each year."
Engels said the 45 Auxiliary members work hard to ensure the salad luncheon succeeds. Each member prepares at least two salads. Plus, they each purchase their own ticket too.
"We do that because we want JRMC to receive a sizable donation," she said.
Hust said she enjoys serving as a co-chair because the event is successful.
"I know people enjoy this luncheon. Plus, we're proud of the proceeds we can give back to the hospital," she said.
Hust serves as the Auxiliary secretary. She also volunteers at JRMC's Surgery Center.
In its 50 years, the Auxiliary expanded to include eight service programs and the present-day Gift Shoppe. The group also focuses on fundraisers like the Salad Luncheon.
Engels said the event is an opportunity to connect with friends and meet new ones while supporting a great cause.
"Thank you to the community for supporting events like these. The Auxiliary supports JRMC because we rely on legendary healthcare close to home. The luncheon supports our wonderful providers, staff and patients."
The JRMC Foundation funds cancer care, Kala's Korner and volunteer services like Driven to Care and chaplaincy. New equipment purchased this year because of Auxiliary's help includes a defibrillator, vein lights and telestroke equipment.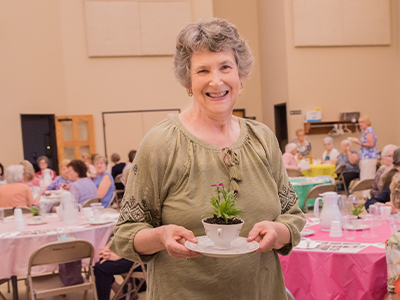 "JRMC is an award-winning destination of care for many reasons," Jackson said. "One of them is the tremendous support from our Auxiliary and the community."
The Auxiliary consists of more than 40 individuals who volunteer their time helping patients and fundraising. Since 1973 the Auxiliary has raised more than $450,000 for JRMC Foundation.
"People should join the Auxiliary because it is a way to raise funds in support of our children and grandchildren," Engels said. "Plus, we get the latest updates on JRMC and fellowship with others."
JRMC Auxiliary meets the first Monday of each month. If interested in volunteer opportunities, call (701) 952-4809.
LEARN MORE