Nearly 100 golfers raised $7,800 at Jamestown Regional Medical Center's 12th annual Golf "FORE" Good tournament.
Initially, the tournament raised money for the new JRMC location in southwest Jamestown. Today, Golf "FORE" Good benefits the JRMC Cancer Center.
To meet the region's needs and accommodate advancements in medical care, JRMC opened its new location 11 years ago, almost to this day. Also that year, Orthopedic Surgeon Dr. Michael T. Dean pioneered JRMC's offering of specialty services, said Mike Delfs, JRMC President & CEO. From one provider in 2011 to 18 employed providers in specialty and emergency care, JRMC now offers ear, nose & throat, obstetrics and gynecology, podiatry, orthopedics, urology and wound care.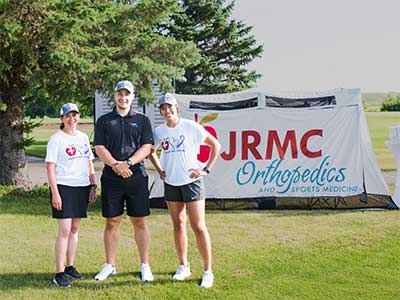 In partnership with Sanford Health, the hospital opened the JRMC Cancer Center in 2019.
"When we opened the JRMC Cancer Center, we anticipated 100 infusions per month," Delfs said. "Today, our teams deliver more than 250 infusions monthly. In three years, we've saved more than 500,000 miles of travel and seen patients from more than 50 communities."
Caring for others is important to Rocky Gabel, administrator of the Thundering Saints motorcycle group. The Thundering Saints of Valley City, N.D., support causes like hospice and cancer care and started the Debbie Gabel Memorial Fund.
"My goal is to keep her memory alive," Gabel said. "Above all, I want people to know that this money helps others going through cancer care."
Growth continues at JRMC
The hospital performed about 1,000 surgeries a year when it moved to this location. Today, it's nearly 3,000. Visits to the Emergency Department have increased as well – from 7,900 visits in 2011 to almost 10,000.
Additionally, JRMC's 350 employees again helped the hospital achieve the Top 100 Best Place to Work in the country and a Top 20 Critical Access Hospital designation nationwide.
"This is incredibly special and rare," Delfs said. "JRMC is growing while other rural hospitals are reducing services or even closing."
That's what makes Golf "FORE" Good so special, said JRMC Foundation Director Lisa Jackson.
"Also, because of our community, we are celebrating year three of the JRMC Cancer Center in partnership with Sanford Health," she said. "This is only possible because of our generous community."
Among those cancer care patients was Chris Siek, who also played in the July 15 tournament.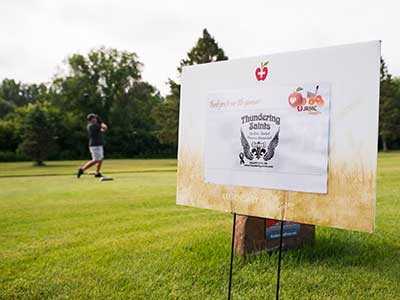 "It's pretty surreal to think that I'm still able to golf, thanks to the cancer center and everyone involved in my treatment and diagnosis," he said.
Siek graduated from the JRMC Cancer Center in December 2019. He's one of 17 graduates.
"The cancer center is a much-needed entity," he said. "It is nice to see when others ring the bell too."
Stories like Siek and graduates like him are reasons to celebrate, Jackson said.
"Through golf, the Barb & Curt Togstad CARE Fund, the Fran Romsdal Fund and gifts from hundreds of others, we are grateful to our teams, our partnerships, staff and our supporters," Jackson said. "In tribute to our current cancer patients, in memory of those we've lost and in gratitude to those who make legendary care possible, we are grateful."