More than 375 people "twinned" with Jamestown Regional Medical Center, raising $109,000 on Giving Hearts Day 2023.
Giving Hearts Day is an annual 24-hour fundraising event. Since 2008, supporters have raised more than $138 million for 550 nonprofits in Minnesota, North Dakota and South Dakota. Since 2015, generous Giving Hearts Day donors have raised more than $600,000 for JRMC. Every dollar benefits patient care.
Generous supporters raised enough money to purchase fetal heart monitors in 2019. Proceeds helped safely welcome infants like Jeffrey and Jayla. Born in October 2022, their mother, Tia Davis, experienced a high-risk pregnancy. She also experienced complications after delivery. It made the difference in their lives.
"Giving Hearts Day supports these twins and families like them," said JRMC Foundation Director Lisa Jackson. "We have a special connection with the region that has helped JRMC save lives and be there for others when they need us the most."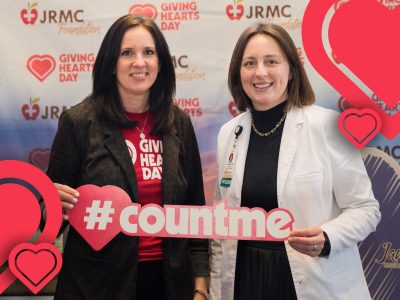 The 24-hour day of giving supports the future of patient care including key initiatives and service lines that wouldn't be possible like cancer care and hospice. The day also supports JRMC's ability to attract talented surgeons and secure innovative technology to advance care.
The support is extra special, said JRMC President & CEO Mike Delfs.
"Gifts to JRMC are testimonials of care. Donors will tell me how hospice was there for them during the uncertainty of a loved ones last days, about cancer care close to home and having  staff who relate and connect to patients and their caregivers during complicated medical situations. This is what I hear every day. JRMC is honored care for you. We are grateful for your help in making the best care in country possible in Jamestown."
TRIPLE MATCH
Special this year, JRMC hosted a lunchtime Giving Gathering to celebrate a special gift. Otter Tail Power Company, Northern Plains Electric Cooperative and other generous donors supported the Foundation's goal with a $10,000 power hour triple match.
"In one hour, we raised $28,000," said JRMC Foundation Director Lisa Jackson. "On a day of 'twinning' we also got to celebrate in triplicate thanks to Otter Tail, Northern Plains and even our CEO! I appreciate our community partners that help us serve more than 40 communities in the North Dakota heartland."
Jackson also shared a special thank you to the HOGS Polar Pig 'Walk the Plank' jumpers who raised money for hospice to be included in the day. In addition, she also thanked the Wimbledon Courtenay Sports Association, JRMC Auxiliary, board members, Fraternal Order of Eagles, El Zagal Jamestown Clowns and R.M. Stoudt, Inc. for their transformational gifts.
"They don't give for recognition; however, they have helped us in transformational ways," she said.
Among the day's 376 supporters was Dr. Rachael Renschler, podiatrist/foot & ankle surgeon.
"As a provider, this support helps us offer the best care to patients," she said. "New equipment means we can better serve Jamestown and the surrounding communities."
Dr. Renschler joined the JRMC team about six years ago. Today, she is the chief of clinics and offers outreach care at the JRMC Carrington Clinic.
Community-wide, JRMC was one of 20 Jamestown nonprofits participating in Giving Hearts Day. Collectively, the group raised about $1 million for local causes on Giving Hearts Day 2023.
LEARN MORE ABOUT PREVIOUS GIVING HEARTS DAY PROJECTS: