A couple who loved the hospital as much as they loved each other are naming the Jamestown Regional Medical Center Patient Care Unit. Nels Albin was 83 years old when he passed away in 2019, after a two-year battle with cancer. He was an area farmer, woodworker and antique collector. His wife Ileene Albin worked at Jamestown Hospital and as volunteer at JRMC for years. Together they traveled, raised a family and shared a love of the land. They also established a $100,000 estate gift in Nels' will to create a legacy.
"We're grateful to JRMC for the care we've received and most recently, what Nels received," Ileene said. "We wanted to share the blessings we had with others."
"The investment in care ensures access to local services at a level our friends and family deserve," said Foundation Director Lisa Jackson. JRMC celebrated the Albins' generosity with a dedication ceremony on July 14.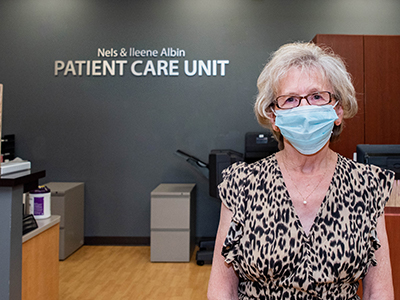 "We'd received care at the hospital," Ileene said. "So it was important to us to have a facility this close in the community."
Over the course of 20 years, the Ablins helped build the new hospital, start the Foundation endowment program, purchase equipment and create the JRMC Cancer Center.
"Their first gift was a $5 memorial. Since then, they maximized their support by utilizing IRA rollovers and the North Dakota 40% tax credit," Jackson said. "I know how important caring for others was for them."
Nels married Ileene 25 years ago. In doing so, he also took on a fatherly role to her four adult children – Tawnie Jewett, Perry Presler, Troy Presler and Jason Presler.
The family agreed – this estate gift will inspire generosity in others as well.
"Today was a wonderful way to display what a wonderful person Nels was," Perry said.
"Throughout the years, I've seen extraordinarily dedicated supporters, many of whom have made a lasting impact on JRMC," Jackson said. "We are grateful when people are so thoughtful about planning their legacy. It hasn't just affected our hospital; it has transformed our community. A hospital like JRMC is unique and rare. The community is proud of that. Generations of commitment made JRMC the destination for care that it is today."
JRMC's journey began with dedicated people who made sacrifices for the community's health and vitality. In 1927, local leaders sold bonds to campaign for a new healthcare facility — what was then Jamestown Hospital. Those leaders provided Jamestown and the surrounding area with state-of-the-art care and a "vision of the future."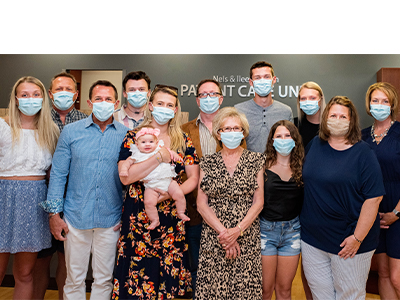 Like them, support continued through the generosity of families like the Albins and thousands of others.
Moving forward, Nels' legacy will live on. The Nels and Ileene Albin name welcomes patients and families as they enter the Patient Care Unit on the second floor of JRMC. These are patients who may be expecting a baby, recovering from hip surgery and for some, breathing their last breath.
"Our patients see the names of community supporters on our walls, plaques and signage. They tell us how they feel cared for by both our medical teams and the people who made this hospital possible." said Lisa Schrenk, registered nurse and manager of the JRMC Patient Care Unit. "Not everyone is called to care at the bedside like a nurse is. However, everyone can care, in their own way. We are grateful for the Albin family. What a beautiful tribute."
To learn more about giving at JRMC, call (701) 952-4880.