More than 70 golfers raised $15,000 for grieving families.
The nine-hole GOLF "fore" ANGELS tournament supports infant bereavement care fund at Jamestown Regional Medical Center.
ANGELS stands for Advocating for Neonatal Grief and Early Loss Support. Every year, families experience the loss of an infant due to an unexpected circumstance. ANGELS helps pay medical bills for those parents through the JRMC Foundation. The fund is available to anyone who experiences infant loss at JRMC at the gestation of 16 weeks or greater up to 4 months of age due to unavoidable circumstances.
On average, the fund helps two to three families each year.
Dr. Mandy Sorlie, Sanford Health, and her family created the fund in 2015, after a Jamestown area family experienced infant loss in a delivery room at JRMC.
"This is important to my family because we can't imagine the pain of losing a baby. We want to do anything we can to take the burden off of families going through this," Dr. Sorlie said. "I look at my three children and I think we are so blessed. I hope this golf tournament teaches them the importance of giving back."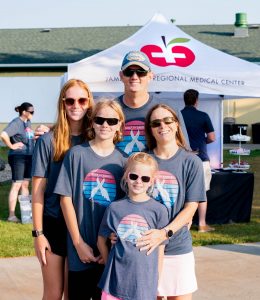 JRMC is grateful to the Sorlie family for bringing us together in support of families who experience infant loss, said JRMC Foundation Director Lisa Jackson.
"Thank you the Sorlies, the golfers and sponsors for supporting families when they need it most," she said.
Next year's ANGELS tournament is set for Saturday, July 30.
2021 GOLF "fore" ANGELS sponsors include:
ANGEL SPONSORS
Collins Family in memory of Julie Ann Collins & Claire Patnaude
Eddy Funeral Home
High Point Properties LLC
Doug and Mary Reimers
Sanford Health
Ryan, Jess and Gavin Skjeret
Sorlie
The Pix Squad
Amber & Devon Martin in memory of Gretchyn Michelle Lynn Martin
ADVOCATE & SWAG SPONSORS
Jason Braun D.D.S.
Neis Services, Inc. / Neis Bus Service
Susan M. & Jim Matthiesen in memory of Tenley Elizabeth Henning
HOLE SPONSORS
Childbirth Education Jamestown
Dakota Central
Gate City Bank
Hillerud Construction, Inc.
Dale A. Knudson
Sharra and Nicholas Lang
Otter Tail Power Company
Sean and Katie Rinkenberger
Triumph Incorporated
Mark & Michelle Watne
Wilhelm Buick GMC and Northstar Buick GMC Dealers
Fairfield Inn & Suites by Marriott Jamestown
Papa Murphy's Pizza
TEAMS
701 Apparel
Bank Forward
Diede Team
Eddy Funeral Home
Goehner Chiropractic
Hochhalter Chiropractic, P.C.
Irmen Team
Laventure LLC
Martin Team
Matthiesen Team / JRMC Rehab
Moser Team
Nodak Insurance Nick Bruns / Total Clean
Orriginals
Orriginals / University of Jamestown
Otter Tail Power Company
Rosenau Team
Skunberg Team
Sorlie Team
Ulland Team
AUCTION & WINE SPONSORS
Tristy Carroll
Kari Johnson
Fairfield Inn & Suites by Marriott Jamestown
Papa Murphy's Pizza
The Full Monte Hair Salon & Spa
Jim & Sue Matthiesen
Ryan, Jess and Gavin Skjeret
DONATIONS
Reuben & Clarice Liechty
Elaine Nieland
Terry & Lynn Nieland
Marit Petrek
Brandi & Gannon Van Gilder