"Wednesday we had an overwhelming response to our first ever fundraising event ANGELS & SAINTS: Axe of Love," said Mike Hanson, owner of Pit Stop Sports. "Our great community came together and really showed their love and faith to help support the families who have lost their infant child."
All proceeds benefit families who experience infant loss through a program called the Advocating for Neonatal Grief and Early Loss Support (ANGELS) fund. Dave and Dr. Mandy Sorlie and their family created the ANGELS fund in 2015. It covers the cost of medical bills for families who experience the loss of an infant at Jamestown Regional Medical Center (JRMC). To date, 19 families have received support.
Hansen supports the community in many ways, but this event is close to his heart. In 1993 his son Quinn passed away from unexplained and unexpected sudden infant death syndrome (SIDS) at six weeks old.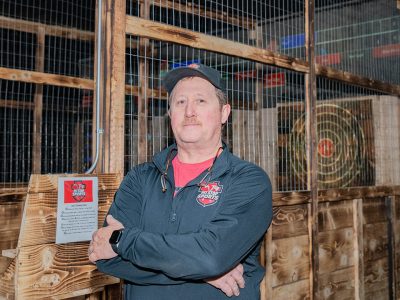 "The pain never does go away," Hansen said. Although he hardly remembers the funeral or picking out the headstone, he remembers the community's kindness. "Our goal was to bring awareness to families like his and support others, the way the town of Ypsilanti did after Quinn's death," said Hanson.
"I'm almost certain the community raised enough for our expenses," he said. "I'm glad the ANGELS fund can continue to provide support like that for this region."
"The ANGELS fund is so special to all of us at JRMC," said Foundation Director Lisa Jackson. "I'm grateful for everyone who is part of this healing and supportive event. A special thank you to the Sorlie family, Pit Stop Sports and other lead sponsors, KG Beauty Co., Eddy Funeral Home. Knights of Columbus Jamestown, Dean and Rita Sorlie, Sanford Health and Muffy T. Weisz."
"As a family physician, I have witnessed the pain and heartbreak that families experience while losing an infant. My husband and I can't imagine receiving a bill after a miscarriage, stillbirth or sudden loss. Our goal in creating this fund is to be there for families removing any financial burden so they can focus on grieving and healing," Dr. Sorlie said.
The Sorlies and JRMC Foundation previously hosted the GOLF "fore" ANGELS event each summer.
The Axe of Love event hosted more than 60 people at Pit Stop Sports and raised more than $5,500.
"We're grateful for the partnership with the Pit Stop Sports family and the community who make helping families possible," said Sorlie.
LEARN MORE