'How to pick the right shoe?' was one of the most popular questions at the JRMC U: Happy Feet class.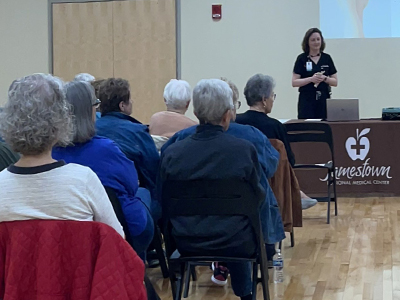 Fifty-two people attended the JRMC U: Happy Feet class at Two Rivers Activity Center on Thursday, April 13. The event helped people understand why feet are vital to overall health.
"Everyone is different," said Podiatrist/Foot & Ankle Surgeon Dr. Rachael Renschler. "My advice is to find a skilled salesperson to help you pick a shoe that fits. Use trial and error. The best shoe isn't always the most expensive."
Dr. Renschler practices alongside fellow Podiatrist/Foot & Ankle Surgeon Dr. Kayla Emter.
"We hope to help people understand their options," Dr. Renschler said. "Whether it is choosing the best shoe, how to do special stretches or how our medical center can help – we hope people walk away with information that supports them and their families."
She also recommended people buy shoes at the end of the day and trust the shoe's fit, not the number.
Drs. Emter and Renschler are members of the comprehensive Orthopedics team. That team includes Orthopedic Surgeons Drs. Michael T. Dean and Timothy Volk as well as Orthopedic Nurse Practitioner Crystal Krapp and Physician Assistant Patrick Walter.
Other questions included:
How do I keep my feet healthy?
First, keep them clean and dry, Dr. Renschler said. Other ways to keep them healthy are to clean the inside and outside of shoes, cut nails carefully, regularly and straight – never tear them. If feet are in pain, it's time to try new shoes and inserts or perhaps to schedule an appointment.
How long can a pair of shoes last?
That depends on how often a person wears them, she said if they are worn daily, then they should be replaced at 9-12 months. Shoes older than five years should be tossed as they likely no longer fit the foot properly for that long.
What are common foot concerns?
People often come to see a podiatrist/foot & ankle surgeon for ailments like plantar fasciitis, bunions, tendonitis, hammer toe and ingrown toenails. Drs. Renschler and Emter can help with treatment options including orthotics, medications, therapy and surgery.
What to do about arthritis in feet? 
One attendee said her arthritis is so bad it feels like she's walking on golf balls. For those individuals, Dr. Renschler said she recommends people take medications to manage pain and reduce inflammation. Medications include ibuprofen and naproxen. If those don't work, she recommended scheduling an appointment.
When should I come to the doctor? 
"If foot pain is interfering with your life and all the things you love to do, our team is here to help," she said. "One of the most rewarding things I can hear is 'my pain is gone.'"
JRMC U Classes
Specialists at JRMC are collaborating with Two Rivers Activity Center (TRAC) to offer monthly opportunities to learn about common health issues. JRMC offers virtual and in-person learning education throughout the year.
Future JRMC U classes include:
• Wednesday, May 3: "Prostate Health" featuring Urologist Dr. Brent Williams
• Thursday, May 18: "Women's Health" featuring OB/GYN Dr. Emily Stromquist
All events are set for 11 a.m. Attendees do not need to be TRAC members to attend.
LEARN MORE: