Patrick Walter is a physician assistant for orthopedics at JRMC. His experience includes a Master's Degree in Exercise Physiology. He studied the physiological efforts of walking poles in patients with and without coronary artery disease. Patrick enjoys hunting, fishing and all types of sporting activities – especially football, downhill and water skiing.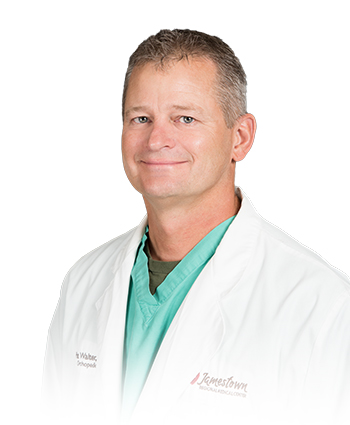 EDUCATION & TRAINING
University of North Dakota School of Medicine and Health Sciences Grand Forks, N.D.
Physician Assistant Program
CERTIFICATIONS
National Commission on Certification of Physician Assistants
Personalized Care Every time
Patrick Walter joined the JRMC team in 2016. Originally from Bowman, N.D., Walter earned his Masters Degree in Exercise Physiology from the University of Wisconsin – La Crosse and his Master of Physician Assistant Studies from the University of North Dakota in Grand Forks, N.D. He is certified by the National Commission of Certification of Physician Assistants.
Walter sees patients of all ages, injuries and post-operative visits. He also sees same-day patients and assists Dr. Michael T. Dean in surgery.