Tom Ravely said there's no reason to suffer in silence.
"Don't suffer," he said. "Anybody that has these problems — we have urology here in town, make an appointment. Go in."
For the 62-year-old, his experience with urological care started 13 years ago.
Urology is the care of health below the belt, including kidneys, prostates, bladders and male reproductive health.
An ambulance ride to the old Jamestown Hospital yielded the results – urosepsis. Because he was not emptying his bladder, infection spread throughout his body.
"The medical team told me how lucky I was to be alive," Ravely said.
While the team in Jamestown addressed the infection, determining the cause required the help of a urologist.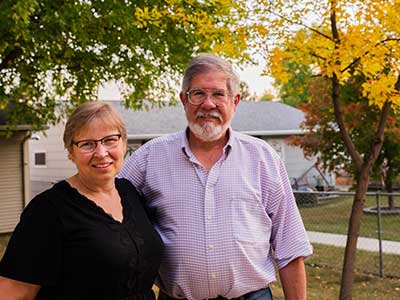 That's when Ravely met Urologist Dr. Brent Williams, who practiced in Fargo at the time. Dr. Williams joined Jamestown Regional Medical Center (JRMC) in 2022.
"When I learned Dr. Williams was coming back, I was very happy," Ravely said. "I was calling saying, 'set my next appointment with Dr. Williams.'"
Dr. Williams has nearly 20 years of experience delivering urologic care. Additionally, he's a North Dakota native. He grew up in Cavalier and studied medicine at University of North Dakota in Grand Forks.
"I suffer from a weak bladder," Ravely said. "That means when I urinate, I don't empty the whole bladder. So, they put me on catheters. I use them four times a day. It's only 20 minutes out of the day. It felt strange at first though now I am used to it."
CATHETER CAMRADERY
Living a normal life with a catheter is possible, many people do. It just takes some adjustments.
"I'm finding more and more people around town use them," Ravely said, saying he doesn't mind sharing his experiences because it helps others feel more comfortable. "It gives them somebody to talk to and makes them feel less alone."
Bladder issues aren't the only reason Ravely chose Dr. Williams. Before his bladder challenges, Ravely experienced a large kidney stone too.
Kidney-stone pain is nearly unbearable, Ravely said.
"When it would move, it took me right down to my knees."
After trying to break the stones with ultrasound frequencies, two larger pieces remained. Dr. Williams removed them surgically.
Kidney stones impact more than 10% of the population.
"In 13 years, I could have gone to other urologists, and I did go to other urologists," Ravely said. "I like Dr. Williams because he always knew what to do and he always could handle a problem. Dr. Williams calms me when I'm anxious and he doesn't talk down to me. I trust him."
Today, with modifications, Ravely lives the quality of life he wants. He is mindful of where the nearest restroom is, however, that doesn't stop him. He enjoys camping with his wife in the summer. Plus, Ravely said he continues his hobby of repairing vehicles and working with electronics.
"I'm grateful for Dr. Williams and glad he's here at JRMC."
LEARN MORE
meet Urologist Dr. Brent Williams