At JRMC, we see you. The adventure seekers. Calendar jugglers. CEOs of their families. We know that SHEROES like you have individual care needs. We also know that the health of a SHERO impacts the health of your family, your work and your life. That's why our comprehensive OB/GYN team offers 24/7 care to this community.
When a SHERO'S super powers need extra care, we're here to help save the day.
YOU ARE AT THE HEART OF YOUR FAMILY
What makes a SHERO? A SHERO is outstanding, noble and courageous. She is the event manager, temperature taker and household leader. The SHERO is you. The JRMC OB/GYN team offers care for SHEROES of every age and phase. From menstrual cycles to menopause as well as fertility, birth control and reproductive health, care is available at JRMC. Women deserve the best.
MEET THE WOMEN'S HEALTH TEAM
MEET OUR 2023 SHERO AWARD RECIPIENT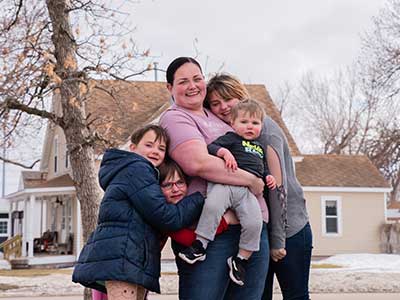 Melissa Burdick is Jamestown Regional Medical Center's first SHERO award recipient. The single mom of four received the honor on Wednesday, April 12, 2023. Burdick's sister, Kristin Brehm, nominated her.
"My sister is a single mom to four children – Lylah, Harlee, Harper and Logan. The youngest and only son was born after my brother-in-law passed away from cancer. She has continued to do anything and everything to make sure her children and family are happy and healthy. Through all this, Taco Bell promoted her to general manager. My sister continues to give life everything she's got, no matter what hand she is dealt. She is consistently helping friends, family and employees to be their best person."