Driving 100 miles was not an option for this single mother. After years of wearing the wrong shoe size, her feet needed medical care. However, financially and logistically, if care wasn't close to home, she decided she'd live with the pain. Jacqui Satrom, Jamestown, is a mom to four and stepmom to two all ages 4 to 18. When she isn't managing a household and caring for little ones, she works in a pre-school setting.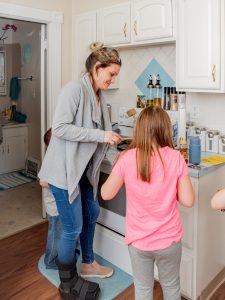 "Children are my passion," she said. "I didn't realize it until I started working with them full-time. This is what I was meant to do."
Earning her living with littles and caring for family became increasingly challenging. Pain in both feet meant everyday tasks like cooking, camping and fishing drained her.
She tried at-home treatment methods like ointments, gels and shoe inserts. When those didn't offer relief, she searched for foot doctors near her.
"I thought for sure I'd have to travel for all my appointments and my surgery. I couldn't afford that. Plus, it wasn't feasible because of my obligations at home."
That's when she heard about Dr. Rachael Renschler, podiatrist/foot & ankle surgeon at Jamestown Regional Medical Center.
"I read about her and watched her video online to get to know her better. I also read the reviews. When I saw Dr. Renschler's face, I just knew – this was the doctor to do my surgery."
LOCAL FOOT CARE
Dr. Renschler joined JRMC in 2018. She specializes in the conservative and surgical management of conditions of the foot and ankle. Dr. Renschler and her fellow Podiatrist/Foot & Ankle Surgeon Dr. Kayla Emter are committed to providing the most advanced podiatric and surgical care possible.
"The most rewarding aspect of caring for people is when they tell me their pain is gone," Dr. Renschler said. "Feet are the foundation of a healthy life. With foot pain, quality of life suffers so activities that bring joy to patients are limited. I want to get patients back to living and enjoying life."
Satrom said everyone at JRMC, including the admissions and nursing teams, cared for her as a whole person.
"Some days, I had to bring three children to the appointment," Satrom said. "It's the only way I could get there without missing school and work. The team never minded and would even offer stickers and coloring books to my little ones."
When patients bring family members or children with them, it provides a window into their life and what is important to them, Dr. Renschler said.
"With Jacqui, it was important to get her back to activity with her children without pain. Selecting the right surgery for her took this into account to ensure she could continue to care for her family, even during recovery," Dr. Renschler said.
Dr. Renschler surgically corrected bunions from Satrom's left foot two years ago through a minimally invasive technique. Satrom received the same surgery on her right foot in February 2022.
Today, Satrom says she's looking forward to road trips with her children. She missed out on sledding with them this winter, so she's especially excited for hiking near waterfalls in Minnesota with the family this summer.
LEARN MORE