Marie Olson has baking to do.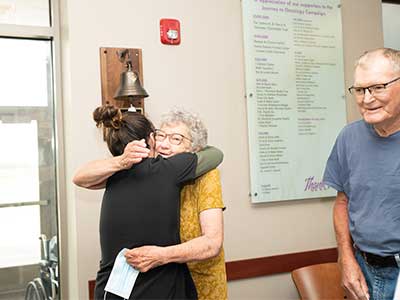 The Montpelier, N.D. woman hurried home after ringing the bell at Jamestown Regional Medical Center. After 12 treatments, she graduated from the JRMC Cancer Center on July 14, 2022. Her granddaughter, Bailey Olson, got married the next day and Marie, who used to bake professionally, created the top of the cake.
Though she felt tired before her colon cancer diagnosis in fall 2021, now that she has received treatments, she feels better. She even feels more energized to do what she loves, including cooking, baking, gardening and canning tomatoes.
"I don't feel like resting," she said.
Olson received her cancer diagnosis in October 2021 after an annual checkup with Dr. Justin Rosenau at Sanford Health. JRMC, in partnership with Sanford Health, opened the JRMC Cancer Center in 2019.
From there, her care team included Dr. Jeff Wiisanen, oncologist and Dr. Robert McMillan, general surgeon. Dr. McMillan removed the mass in her colon and also installed a port for her chemotherapy treatments in November 2021.
"It looks like they did a very good job and caught it in time," she said. "We're so fortunate to have all this care here, close to home."
Olson is grateful for her JRMC Cancer team too, including Oncology Nurse Practitioner Laura Bond and Registered Nurses Alicia Beckman, Garret Hillius and Caitlin Striefel.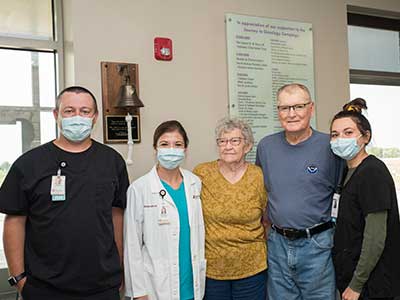 "They have been so good. I trust all of them," Olson said.
Olson rang the bell in July; however, her team administered her last round of chemotherapy in June. She wanted to wait for the results of her follow-up test.
"Marie is one of those people where you can't help but to smile every time you see her," Beckman said. "Her positivity and contagious sense of humor made everyone's day a little brighter. She was an absolute warrior during her cancer treatment."
As the mother of four children, grandmother of seven and great-grandmother to one, Olson plans to spend time with them at rodeos and baseball games. She also expects to bake.
"If I know they're coming, I have chocolate chip cookies ready," she said.