Laughing until you cry is one thing – but leaking when you laugh is no joke. That's why Jamestown Regional Medical Center is hosting Kegels & Cocktails on May 10. The event features fun and factual information featuring Dr. Gregg McAdoo and Nurse Practitioner Makenzie Breitbach from the JRMC OB/GYN team.
Dr. McAdoo and Breitbach are part of a comprehensive OB/GYN team including Dr. Emily Stromquist. Dr. Stromquist joined the JRMC team in February. Attendees can also meet Physical Therapists Kaiann Arellano, Sherry Benson and Rachel Savageau. Each of these PTs offer pelvic floor therapy, which can in fact strengthen Kegel muscles and improve incontinence and sexual health.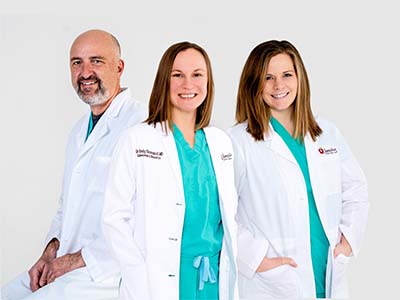 "Questions about your body can feel embarrassing," Dr. McAdoo said. "Kegels & Cocktails is an opportunity to join the conversation about women's health in a casual, social setting."
WOMEN'S HEALTH
Common issues women encounter for example are urinary incontinence, vaginal prolapse, painful sex and hot flashes. Attendees are welcome to ask questions from a variety of topics such as infertility, birth control, menopause and more.
"Too often, women aren't sure what's going on with their bodies and are too uncomfortable to ask. That can lead to an unpleasant health outcome," Breitbach said. "We'd like to alleviate those by offering free educational opportunities such as Kegels & Cocktails."
Questions are welcome at the event. Of course, individuals can send them privately and in advance to info@jrmcnd.com.
Set at The Arts Center, the event begins with a social at 5:15 p.m. and presentation at 6 p.m. Light appetizers and door prizes will be provided. Kegels & Cocktails is free and open to the public. Registration is appreciated, though not required. RSVP online or call (701) 952-4795. Pre-registered attendees will be entered in to win a special coffee-themed prize!
Masks required when physical distancing cannot be maintained.