The nursing faculty at the University of Jamestown (UJ) selected Trisha Jungels as the inaugural recipient of the UJ Nursing Excellence award.
Jungels is the Chief Nursing Officer and Vice President of Clinical Services at Jamestown Regional Medical Center (JRMC). She received the award on Thursday, Jan. 12 at UJ's Sophomore Induction Ceremony.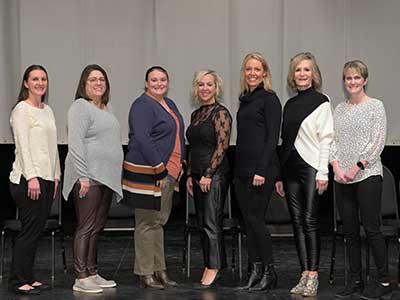 The UJ Nursing Excellence Award recipient is a graduate of the Jamestown College/University of Jamestown Nursing Program. The UJ nursing department selects the recipient, said Kim Ash, chair of the UJ nursing department. The recipient demonstrates a passion and commitment to nursing. He/she is devoted to improving patient care; advocating for patients, families, and/or communities; and is recognized for his/her exemplary service to the nursing profession.
"Trisha is a worthy candidate due to her dedication and enthusiasm in the field of nursing. She shows this through her consistent effort to provide the best patient care possible. With an eye towards the future, she also advocates for bettering greater issues facing patients, families and communities," Ash said.
MEET TRISHA JUNGELS
Jungels has nearly 20 years of nursing experience. She earned her Bachelor of Arts in Nursing at the University of Jamestown in 2002. She later earned a Master of Science in Business from University of Mary in 2016. Some of Jungels' greatest accomplishments include implementing multiple best practice initiatives to improve patient outcomes, enhancing staff development in reporting Outcome and Assessment Information Set (OASIS), development of a Private Duty Home Health Aide Program, implementing productivity standards for Home Health & Hospice and implementing organizational excellence principles.
"As nurse leaders at JRMC, we recognize Trisha's passion for JRMC and the patients in our care," said Shar Trevithick, JRMC's Home Health & Hospice Manager. "She is very deserving."
In addition, Jungels is known for her mentorship and preceptorship skills. Her efforts supported:
building the Nursing Clinical Excellence Ladder program
implementing the patient care bundle
developing clinic and cancer center service lines
Jungels also serves as secretary/treasurer of the North Dakota Organization of Nurse Leaders and supports the Student Nurse of the Year program.
"Trisha is a valuable member of the JRMC team. She exemplifies what legendary looks like. When we think of JRMC's mission – to be THE difference in the lives of those we serve – we think of Trisha," said Mike Delfs, JRMC President & CEO. "We're grateful to UJ for honoring Trisha in this way."
LEARN MORE