Healogics recently recognized Jamestown Regional Medical Center's (JRMC) Wound & Hyperbaric Clinic as a Center of Distinction. JRMC is the only North Dakota hospital recognized for this honor.
JRMC's Wound & Hyperbaric Center manages wounds that won't heal.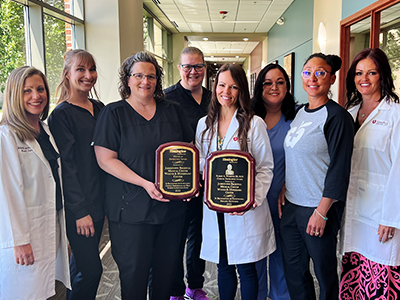 For patients living with a chronic wound, everyday activities can be a battle. Without proper treatment, patients may suffer for years without improvement. Even worse, they may face amputation.
"These awards reflect the hard work of the Wound team and the work we do to ensure each patient's success," said Wound & Hyperbaric Specialist Amanda Lausch, FNP-BC. "We're proud to offer this care to the people of our region."
Lausch is part of a Wound Center team that includes Wound & Hyperbaric Specialist Holli Marquart, NP-C and Podiatrist/Foot & Ankle Surgeon Dr. Kayla Emter.
The JRMC Wound & Hyperbaric Center understands the challenges associated with chronic and non-chronic healing wounds. The center offers cutting-edge treatments, dedicated providers and the ability to work with dressing formularies – all to help wounds heal faster. The Wound Center sets its goals to heal patients in 16 weeks.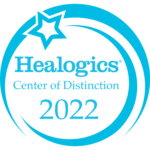 JRMC is a member of the Healogics network and offers specialized wound care to patients suffering from diabetic foot ulcers, pressure ulcers, infections and other chronic wounds which have not healed in a reasonable amount of time.
Healogics and its 600 partners treat more than 300,000 patients annually. In 20 years, those centers have healed more than 4 million wounds. In 2022 alone, JRMC's Wound Center healed more than 120 individuals. JRMC was the first hospital in North Dakota to offer a specialized wound center with hyperbaric oxygen therapy (HBOT). HBOT fights infections, heals wounds and treats conditions including radiation burns, graft failures and various ulcers.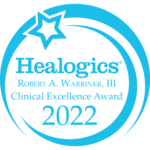 JRMC also received an award for clinical excellence. The distinction – called the Robert A. Warriner III, M.D., Clinical Excellence Award – is awarded to centers in the top 10% of eligible Healogics Wound Care Centers. JRMC received the distinction because of its high patient satisfaction and healing rates. In JRMC's case: more than 92% of patients reported they were satisfied with their care JRMC's median days to heal is an impressive 21.
"Getting someone on the path to healing is so rewarding," said Wound & Hyperbaric Specialist Holli Marquart, NP-C. "We regularly see patients who have been waiting for a wound to go away on its own – for years sometimes. The right approach makes all the difference. This is our specialty."
JRMC leadership said it is proud of the legendary team and the care it offers the region.
"This award is a testament to the Wound team's resilience and dedication. It is another example of how JRMC is a destination for care in the region," said JRMC President & CEO Mike Delfs. "The work we do is not for awards. However, awards are a testament to the excellence we offer at JRMC."
LEARN MORE