Hematuria is the medical term for blood in the urine. Blood in your urine can signal a urinary tract infection, kidney stones, bladder or kidney tumors or other medical conditions. Blood in your urine can indicate a serious health issue, so seeking medical attention is essential to determine the root cause.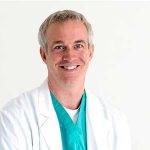 The Nov. 15 JRMC U – "Hematuria: Why is There Blood in My Urine?" – will be presented by Urologist, Dr. Brent Williams. The free education will highlight the importance of paying attention to what many brush off as a mild symptom.
As a urologist, Dr. Williams specializes in treating conditions related to the male and female urinary tract and the male reproductive system. Urologists diagnose and treat various conditions, such as urinary tract infections, kidney stones, prostate cancer, incontinence and erectile dysfunction. The specialty is highly sought-after for care. JRMC added Dr. Williams' talents in 2022 to respond to the growing regional demand.
"There are only a handful of urologists in the entire state of North Dakota," said JRMC CEO Mike Delfs. "We are fortunate to not only have one of the best but to also offer faster access to care than larger health systems."
November is bladder health month, and Dr. Williams is taking the time to support having a frank conversation about a symptom he's noticed occurring at a greater rate in his clinic.
JRMC welcomes both men and women to attend. Pre-registration is optional but appreciated. Visit jrmcnd.com/U or call (701) 952-5301 to reserve your space.
JRMC U classes offered monthly
Jamestown Regional Medical Center offers virtual and in-person learning opportunities throughout the year. Called JRMC U classes, these events help individuals make informed choices about their health. All events are set for 11 a.m. at TRAC and include a light lunch. They are free and open to the public. Attendees do not need to be TRAC members to attend.
LEARN MORE