Hannah Boese was recently honored with JRMC's Legend Award. Boese, a registered nurse, was nominated by her nursing teammate, Laura Walker.
"She is constantly going above and beyond," said Walker about her teammate. "Hannah always lends a helpful hand when needed and is kind to patients and her team. She shows incredible respect for her patients and her coworkers."
Boese was also recently recognized as the first graduate of JRMC's revamped, 6-month-long Nurse Residency program. Hannah has stated she is grateful for the program.
"I liked Nurse Residency because it gave us a safe space to discuss the challenges of this role. Our residency group had a good mix of new nurses and nurses with more experience," she said.
"We are proud of Hannah for completing the residency program and celebrate her success," said Trisha Jungels, chief nursing officer at JRMC. "I am thrilled she is being recognized as a Legend. It reflects her dedication to doing more than what is expected.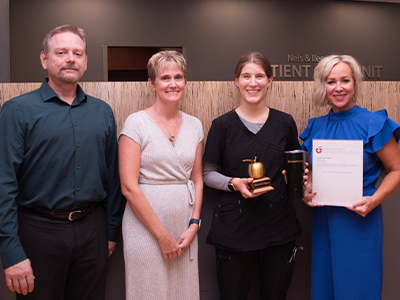 Boese's nomination shared examples of how her work and commitment embody what JRMC describes as legendary. Her kindness, courtesy, dedication to excellence and genuine willingness to lend a hand all contributed to her peers selecting her as JRMC's latest Legend.
About the Legend Award
A legend is not created in a day. It takes consistent commitment to performing with selfless purpose. A legend commits every day — without concern for recognition — to being irreplaceable. JRMC employees nominate one another for the honor; voted on by the 350 medical center team members.
The purpose of the Legend Award is to inspire, motivate and capture the moments that define JRMC. The goal is to help employees and volunteers connect to the sense of purpose that brought them to the organization. This award is for employees who've made extreme efforts to benefit their patients and colleagues.
LEARN MORE: