Jamestown Regional Medical Center (JRMC) recognized its legendary employees at Golden Gala 2023 on Friday, Jan. 6. This is JRMC's first offsite appreciation event for employees since the onset of the pandemic.
"JRMC employees have worked tirelessly since the beginning of COVID and even before. I am so grateful for the opportunity to recognize them in person alongside their colleagues and families," Delfs said. "They are beyond deserving."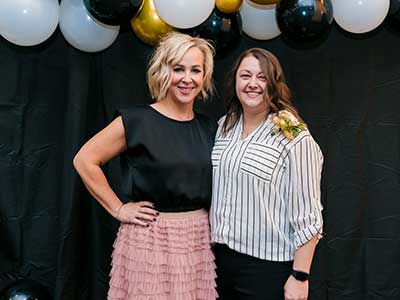 Previously titled the Celebrity Celebration, JRMC renamed the event to celebrate individuals who have achieved milestones as well as individuals who have exceeded expectations in their role.
"The event is a little different this year," said JRMC President & CEO Mike Delfs. "We renamed it. We reinvented it. And, we re-evaluated its purpose. The Reward & Recognition Committee worked hard to ensure this night served as an opportunity to recognize the Difference Makers among us."
Legendary care
To do that, JRMC recognized 2022 leaf winners. Difference Leaves are peer-to-peer recognition. The leaves acknowledge employees who demonstrate JRMC's mission or excel at JRMC's standards of behavior.
Leaf winners this year include: Brianna Mayhair, Plant Operations; Tabitha Kleingartner, Pharmacy; Allison Windish, Radiology; Jewel Wohlart, Nutrition Services; Heather Sobolik, Radiology; Marly Schnabel, Marketing; Kristin Briss, Nutrition; McKenna Barnick, Nutrition.
JRMC also recognized its Legend Award recipients at Golden Gala 2023. A "Legend" is the highest honor presented to a JRMC employee. JRMC Legends are real life examples for others to follow. Every day, acts of heroism take place in healthcare.  These legends commit to going above and beyond to benefit the hospital and their community.
This year, those recipients include: Kristin Satrom, Patient Care Unit; Janean Schmidt, Linen Services; Krista Ames, Patient Financial Services; Katie Barta, Courtney Cook, Maggy Russek and Brianna Six, Patient Care Unit and Mitch Gahner, Information Technology.
"We also recognize this year's service award winners," Delfs said. "These individuals have dedicated anywhere from five years to 35 years to serving JRMC and their community. We are grateful for them and for their dedication."
CELEBRATE WITH JRMC
This year's service awards include:
5 YEARS

Nicole Brandvold

Kristin Briss

Debbie Clemens

Carrie Giesler

Shannon Hagan

Sasha Krapp

Sharra Lang

Janice Lucero

Jasmin Peterson

Jeffrey Plemel

Madeline Ranum

Tami Rasmussen

Dr. Rachael Renschler

Allison Tarno-Cole

Megan Thompson

Jackie VanRay

Lindsey Williams

Natasha Winstead

Renelle Wobbema

 

Respiratory Therapy

Nutrition Services

Purchasing

Surgical Services

Family BirthPlace

Laboratory

Family BirthPlace

Environmental Services

Laboratory

Health Information Management

CardioPulmonary  Rehab

Anesthesia

Podiatry/Foot & Ankle

Patient Care Unit

Pharmacy

Orthopedics

Patient Care Unit

Health Information Management

Podiatry

10 YEARS

Wendi Alvarado

Kacie Edwards Pahl

Kathryn Kohler

Rachel MacDonald

Marco Moser

Andrew Schott

Jessica Timm

Karen Yonick

 

Surgical Services

Family BirthPlace

Emergency Department

Emergency Department

Anesthesia

Anesthesia

Family BirthPlace

Surgical Services

15 YEARS

Tanya Buchanan

Melissa Erickson

Dane Grebel

Jeffrey Gunkel

Crystal Krapp

Meredith Weisz

Jewel Wolhart

Michelle Ziesch

 

Environmental Services

Patient Care Unit

Environmental Services

Information Technology

Orthopedics

Patient Access Management

Nutrition Services

Health Information Management

20 YEARS

Tawnya Fisher

Trisha Jungels

Renae Lunde

Angela Moser

 

Orthopedics

Administration

Family BirthPlace

Home Health

25 YEARS

Nicole Oster

 

Materials

30 YEARS

Krista Ames

Nikki Bohn

Cindy Nelms

Kris Rudolph

Patient Financial Services

Environmental Services

Plant

Health Information Management

35 YEARS

Cindy Kleven

Sheila Krapp

Health Information Management

Emergency Department
LEARN MORE