Jamestown Regional Medical Center recently received an award as a hospital partner of the year.
Every year at Donate Life Day, LifeSource recognizes those who have gone above and beyond for their dedication and service to the mission of organ, eye and tissue donation.
LifeSource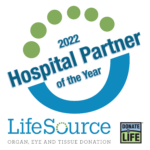 is an organ procurement organization serving the Dakotas, Minnesota and western Wisconsin. The nonprofit serves seven million people across the Upper Midwest, delivering life-saving transplants and life-altering tissue to those in need.
Mark Ellingson, hospital partner liaison for LifeSource, nominated JRMC.
"Jamestown had four tissue donors this year," he wrote in the nomination letter. "While that's not an overwhelming number it is a good number for a small hospital in a rural area. What's better is that their authorization rate for the year was 83% which means they helped make the most of the limited opportunities in the region they serve."
Ellingson complimented JRMC's timeliness and follow-up. He also complimented JRMC's compassion.
"On another occasion, there was a personal item lost for a donor who came to the cities. Quality & Risk Manager Jenna Bredahl patiently worked with me and the donor's husband to work through what happened and resolve the matter," he wrote. "The hospital is a clean, beautiful facility. They are always responsive to what I need from them. This is a hospital partner I appreciate greatly."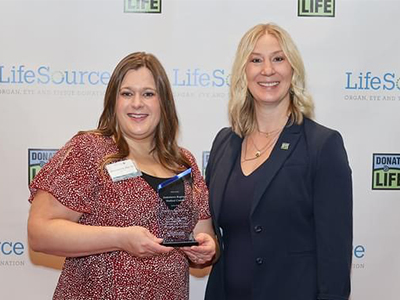 Bredahl said the work JRMC does is not for awards, it is because it is the right way to care for the people the medical center serves. However, receiving the award is an honor.
"Our teams are dedicated to the people we serve," she said. "This is one more example of the legendary care people can expect at JRMC."
This year alone, JRMC has also received awards as a Top 20 Critical Access Hospital in the country and Best Place to Work nationwide.
It's our mission to exceed expectations and be THE difference in the lives of those we serve," said JRMC President & CEO Mike Delfs. "This award is a testament to our hard-working teams. We are proud of them and grateful for their care and compassion."
LEARN MORE