With the help of hundreds of community members, Jamestown Regional Medical Center raised more than $114,000 for technology and equipment on Giving Hearts Day.
Giving Hearts Day is a 24-hour, online giving event. For every $10 donated, JRMC received a match, up to $55,000.
"Community support is incredible," said Lisa Jackson, Foundation Director. "With 24-hours of #GivingHeartsDay and your support, JRMC provides 24-hours of care, seven days a week, 365 days a year. We would not be able to care for the community without the support of so many."
Nearly 330 donors supported causes including the JRMC Cancer Center, JRMC Hospice and the future fetal heart monitoring system for babies and laboring moms.
The future fetal heart monitoring system will replace aging equipment. It allows moms to move around, get comfortable and help labor progress naturally, said Family BirthPlace Manager Emily Woodley. The system integrates mom and baby vitals automatically into the patient record, saving nurses' time and improving accuracy.
"Donor dollars provide innovation, technology and equipment to keep patients safe. In non-profit hospitals, our margins just don't allow for this in our budget," said JRMC President & CEO Mike Delfs. "Integrating the new system means nurses can spend more time at the bedside and less time behind a computer."
JRMC was one of 15 Jamestown nonprofits to participate in Giving Hearts Day locally. Collectively, the group raised more than $1.8 million for local causes.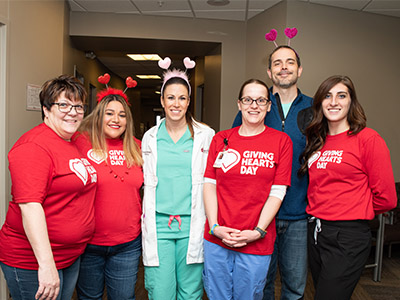 "This is a huge win for JRMC and the Jamestown community," Jackson said. "Thank you to the community for their giving hearts. What you've done for JRMC and the region will make THE difference in patient care."
This Giving Hearts Day, more than 34,500 individuals gave $19 million to nonprofit organizations throughout the Upper Midwest.
"Every year, we talk about how gifts 'double the love.' When it comes to the JRMC this is absolutely true. Giving Hearts Day gifts directly affect our current patients; however, the love is doubled because those gifts help future patients too. Thank you to this community for the support. We are humbled," Jackson said.