One Jamestown woman says she's ready to book a trip to Florida once her cancer center journey is complete.
"After putting off scheduling my mammogram for sometime I'm glad I did," Donelle Syversen said. "They found it in the early stages."
Syversen grew up in Edgeley, N.D. and now works at High Plains Water in Jamestown.
The American Cancer Society recommends most women over the age of 40 schedule and receive an annual mammogram. Women with family history or at higher risk may need the screening sooner.
Syversen explained that it's important to keep looking forward and live your life if you or someone you know is going through a cancer journey.
"Live your life. Yes, you have cancer but you still need to live. Know that it does get better. Hair does grow back," Syversen said.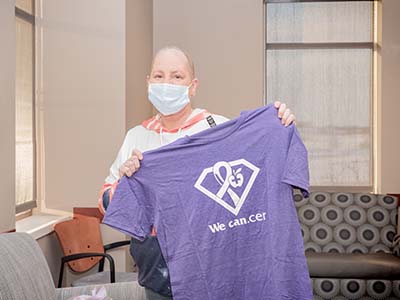 "I'm glad Jamestown has a cancer center," Syversen said. "I save time by not having to drive to Fargo or Bismarck. I'm able to go to work the same day after my treatment."
Syversen credits her family and a close friend for supporting her.
"Having someone there that knows what questions to ask helped me a lot," Syversen said. "It helped me worry less about the scary things."
MILES MATTER
Syversen said Garrett Hillius and Alicia Beckman, both registered nurses at Jamestown Regional Medical Center, made a difference in care.
"Garrett and Alicia have been awesome," Syversen said. "I'm excited to come for my treatments because they are such positive people. I look forward to seeing them. They make the scary not so scary."
Caring for patients like Syversen is an honor, Beckman said.
"It's a privilege to support Donelle and others like her through their cancer care journeys," she said. "We're glad to end the year with this celebration. It gives us and others hope."
The JRMC Cancer Center opened in 2019 in partnership with Sanford Health. Since then, it has saved individuals like Syversen more than 500,000 miles of travel. Each month, the cancer center team offers more than 200 chemotherapy infusions in six naturally lit, private infusion bays.
Syversen completed 16 rounds of chemotherapy, one treatment every two week for eight weeks. Then, she completed one treatment each week for 12 weeks, all at the JRMC Cancer Center. She celebrated her graduation on Dec. 29. Her radiation journey began Jan. 10 in Bismarck.
"I wasn't going to let chemo ruin my life," Syversen said. "I was going to continue to live my life as best as I could."
Syversen said she can't wait to get her energy back and to start feeling normal again.
LEARN MORE