With the help of hundreds of community members, Jamestown Regional Medical Center raised more than $110,000 for patient care now and for future generations.

Giving Hearts Day is more than a campaign. It is a platform funded by Dakota Medical Foundation, High Impact Institute and The Alex Stern Foundation that helps grow and strengthen nonprofits to serve their communities better. The 24-hour online giving event has more than 500 participating charities that also receive matching dollars. For every $10 donated, JRMC received a match, up to $54,500.
"It's no secret that 2020 was a challenging year for all of us," said JRMC Foundation Director Lisa Jackson. "Jamestown and the surrounding communities rely on JRMC. Your gift provides the best outcomes for care, whether it's a pandemic or not. The community gave wholeheartedly. We are grateful."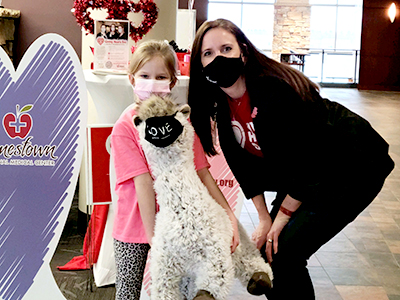 More than 300 donors supported multiple JRMC needs.
For example, now JRMC can purchase an additional ultrasound machine. Everyday use will include guidance with nerve blocks, IVs and the placement of arterial, central and PICC lines. The equipment provides increased safety and pain control and will be used throughout JRMC departments, including orthopedics, emergency, family birthplace and patient care unit.
"This support ensures our financial health while we care for the community's physical health," said Jackson.
 "Donor dollars mean our care teams have the technology and equipment they need to keep patients safe. In nonprofit hospitals, our margins don't allow for this in our budget," said JRMC President & CEO Mike Delfs.
JRMC was one of 14 Jamestown nonprofits to participate in Giving Hearts Day locally. Collectively, the group raised about $1 million for local causes.
---
REASONS YOU GAVE
"During the deep freeze, we were warmed by your generosity and also why you gave," Jackson said. "One woman just experienced the death of her husband. She came to the hospital with all of the gifts given in his memory and asked us to use them for Giving Hearts Day." She said, "My husband would have wanted this."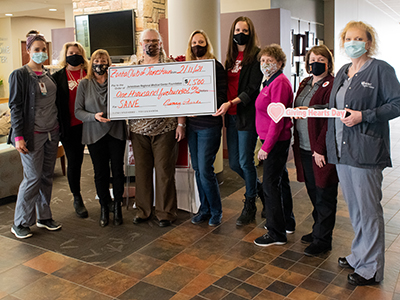 "We also received beautiful notes and gift designations," said Jackson. Lauren Sorlie, age seven, represented her family to make a gift to the ANGELS fund that supports infant loss.
Many gifts are also recognized in memory or honor of loved ones and in gratitude for excellent care. The ZONTA Club of Jamestown supported the JRMC Sexual Assault Nurse Examiner (SANE) program.
---
Giving Hearts Day gifts means JRMC can continue serving this region with award-winning care now, tomorrow and for generations to come.
To learn more about patient care or giving opportunities at JRMC, use the links below or call (701) 952-1050.