Jamestown Regional Medical Center (JRMC) recently announced Abby Harr as its most recent Legend Award recipient.
The Legend Award is the most prestigious distinction for a JRMC employee. The Legend Award recognizes employees who exceed expectations and are THE difference in the lives of those they serve.
Harr, a transitional nurse in Clinical Support Services, was nominated for JRMC's Legend Award by her manager, Jillian Hildebrandt.
"Abby has demonstrated a commitment to delivering high-quality customer service and a passion for ensuring the patient is successful in their home and in the community," Hildebrandt wrote in her nomination.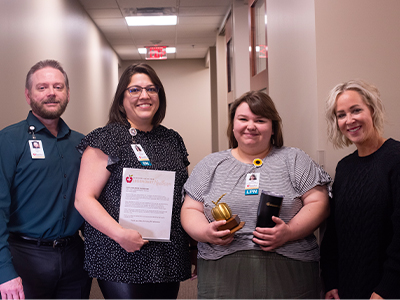 As a part of her role, Harr reaches out to patients who have been recently discharged from an inpatient stay at the medical center. She checks in to make sure patients are doing well in their home environment. A transitional nurse is also referred to as a coach. Harr supports patients to manage their chronic disease and achieve their personal healthcare goals.
But in several encounters, Harr has gone above and beyond her normal role. "She has helped coordinate transportation to and from medical appointments, assisting with insurance applications and connecting patients to community resources," shared Hildebrandt.
"I feel passionate about helping patients receive high-quality care," Harr responded regarding her role. "My patients are the reason I have had the opportunity to learn and grow as a transitional care coach."
"I am honored to be recognized and I am proud to be a part of the care team at Jamestown Regional Medical Center," shared Harr. Her willingness to go above and beyond to help patients demonstrates her kindness and dedication to serving our community. These traits contributed to her peers' selection of her as JRMC's latest Legend.
About the Legend Award
A legend is not created in a day. It takes consistent commitment to performing with selfless purpose. A legend commits every day — without concern for recognition — to being irreplaceable. JRMC employees nominate one another for the honor; voted on by the 350 medical center team members.
The purpose of the Legend Award is to inspire, motivate and capture the moments that define JRMC. The goal is to help employees and volunteers connect to the sense of purpose that brought them to the organization. This award is for employees who've made extreme efforts to benefit their patients and colleagues.
The Legend Award first began in 2012. Since then, employees have named more than 40 individuals as Legends and nominated nearly 150.
LEARN MORE: