Jamestown Regional Medical Center (JRMC) recently announced Kristin Satrom as its most recent Legend Award recipient.
The Legend Award is the most prestigious distinction for a JRMC employee. The Legend Award recognizes employees who exceed expectations and make THE difference in the lives of those they serve.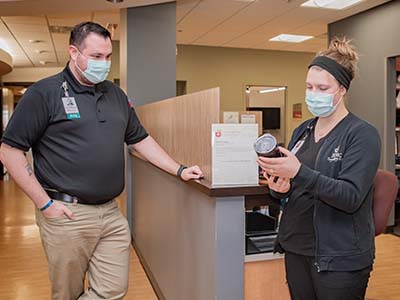 JRMC Registered Nurse Christopher Freeman nominated Satrom, a JRMC registered nurse in the Patient Care Unit, because of her willingness to be THE difference. Satrom responded quickly when a patient needed help.
"She remained calm even during a very scary time," Freeman said. "She communicated clearly her needs to other staff and providers. Kristin was the difference in the lives of the patient and their family."
JRMC's 350 employees cast anonymous votes to select each Legend Award winner.
"Kristin is a great asset to our team," said JRMC Nursing Unit Manager Lisa Schrenk. "She is an amazing nurse and a wonderful person. She cares greatly about improving the outcomes of her patients."
DIFFERENCE MAKERS
The purpose of the Legend Award is to inspire, motivate and capture the moments that define JRMC. The goal is to help employees and volunteers connect to the sense of purpose that brought them to the organization. This award is for employees who've made extreme efforts to benefit their patients and colleagues.
"The nominations inspire staff members to continually be the best, exceed expectations and make THE difference in the lives of those we serve," said JRMC President & CEO, Mike Delfs.
Once nominated, both JRMC administration and employees vote on their favorite nominees and their stories.
"She is an exemplary nurse," Freeman said.
The Legend Award first began in 2012. Since then, more than 35 individuals have been named Legends and more than 110 employees were nominated.
LEARN MORE