Regional partners and Jamestown Regional Medical Center are rallying to support early detection of breast cancer in addition with treatment of all types of cancers.
"Anyone on a cancer care journey can feel a collective hug right now," says JRMC Foundation Director Lisa Jackson. "The community is going all-in with events, raffles, matching gifts and awareness campaigns."
Donations include a $10,000 matching gift from Edgeley American Legion as well as $5,000 from the New Rockford Fraternal Order of Eagles Midway 2923.
"Our 17 members unanimously voted to support the JRMC Cancer Center along with local families experiencing medical challenges," says American Legion member, Jerry Lagodinski. Lagodinski is currently receiving care from the JRMC Cancer Center team. "They are great. I can't tell you how nice it is to receive care close to home."
Miles Matter
Since the JRMC Cancer Center opened two years ago, patients from 35 communities have saved more than 500,000 miles of travel.
"Donations to the Foundation make an immediate impact in the lives of so many. Gifts are directed toward support services like the REACH (Resources, Education, Advocacy, Chaplaincy and Hope) program which we launched this year," says Jackson.
REACH provides assistance for patients and their families through all phases of cancer treatment and recovery.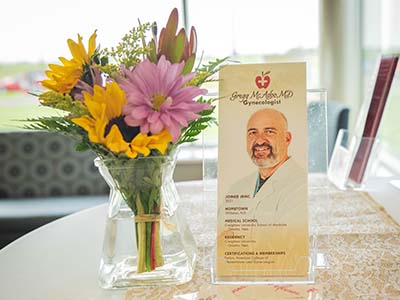 Funding will also provide for advancements in technology for early detection of cancer as well as improvements in care and comfort for treatment of breast and cervical cancer with the No Excuses program.
 "We know women experience barriers to care like finances, transportation, language or even time during the work day," said Tara Kapp, Business Development Center and Internet Manager for R.M. Stoudt. "We hope this encourages women to make themselves a priority and put their health and well-being at the top of their to-do lists."
Kapp is a co-organizer of Running of the Pink and in addition this year, the Baskets Bags & Bubbly event. Both support NO EXCUSES.
Central Valley Health and Jamestown Regional Medical Center created No Excuses in 2015. Since then, more than 100 women have received 3D mammograms and preventative services they otherwise wouldn't have. At any given time, more than 1,300 Stutsman County women are not up to date on their screenings.
"Because of this spectacular region and their dedication to others, JRMC Cancer Center and other departments can continue to provide innovation and access to the best care," says Jackson.
Thank you to our regional partners who offered major support.
Baskets, Bags & Bubbly sponsors R.M Stoudt, Riddle's Jewelry, Quality Inn & Suites, Tapps Lounge
BluFrog Realty
Edgeley American Legion
i3G MEDIA
Jamestown High School Girl's Volleyball
Knights of Columbus
New Rockford Fraternal Order of Eagles Midway 2923
Office Bar and Lounge
Page Fire Department
Puklich Chevrolet Buick GMC
University of Jamestown Jimmie Janes
Valley City Fraternal Order of Eagles