Women deserve expert and specialized care and they deserve it close to home. JRMC's OB/GYN Dr. Gregg McAdoo offered that message to more than 80 individuals at the May 10 Kegels & Cocktails event.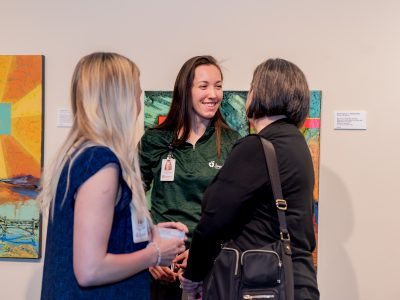 Because of work and family obligations, women often delay necessary care, especially if they have to travel, he said. Dr. McAdoo as well as Nurse Practitioner Makenzie Breitbach presented fun and factual information at Kegels & Cocktails. Dr. McAdoo and Breitbach are part of a comprehensive OB/GYN team including Dr. Emily Stromquist. Dr. Stromquist joined the JRMC team in February. Collectively, the OB/GYN team offers 24/7 care coverage for the community. Attendees also met Physical Therapists Kaiann Arellano, Sherry Benson and Rachel Savageau. Each of these therapists offer pelvic floor therapy, which can in fact strengthen muscles, alleviate incontinence and boost sexual health.
"The attendees asked about Kegels and who should receive an evaluation," Dr. McAdoo said. "If the pelvic region is troubling a woman enough to ask, she probably needs an evaluation."
Common issues women encounter include urinary incontinence, vaginal prolapse, painful sex and hot flashes. Women also asked questions about infertility, birth control and menopause.
"Too often, women aren't sure what's going on with their bodies and are too uncomfortable to ask. That can lead to an unpleasant health outcome," Breitbach said. "We hope to support women with free educational opportunities such as Kegels & Cocktails and future events like it."
LEARN MORE