Jamestown Regional Medical Center (JRMC) recently announced Jamie Heinley and Liz Mehus as its most recent Legend Award recipients.
Registered Nurses Katie Barta, Courtney Cook and Jess Skjeret nominated Heinley and Mehus, two of the medical center's social workers.
The Legend Award is the most prestigious distinction for a JRMC employee. Legends are employees who exceed expectations and are THE difference in the lives of those they serve.
"Jamie and Liz deserve the Legend award because they excel at their jobs and work hard at them. They help other departments – including the emergency department and clinics – find solutions for patients who don't need hospitalization but needed more recovery time before returning home. They are constantly in touch with the patient's providers, treatment teams and nursing staff to implement a discharge plan that meets the patient's needs. They help JRMC provide great care and great outcomes," they wrote in the nomination.
Throughout the winter, Heinley and Mehus arrived at work early and stayed late, not leaving the hospital until each patient received the support they needed.
"To do their jobs, Jamie and Liz are often here past their scheduled hours. They have traveled here in inclement weather – from out of town – and they have even come into the hospital during the weekend when they are off to make sure things are going to plan. Even when they can't make it to work, they are constantly in contact with the nursing supervisor to address any needs at home. They are helpful, flexible and dependable. They work tirelessly for their patients. Their dedication and service are not overlooked. The nursing staff on PCU want to recognize them for all their hard work," they said.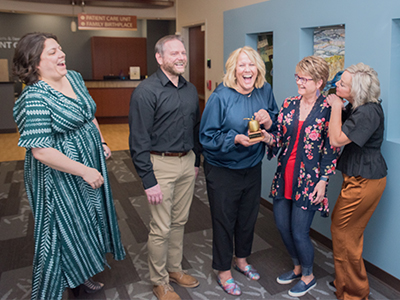 Throughout their combined 30 years with JRMC, Heinley and Mehus consistently exceed expectations. In addition to the parades, each employee also supports JRMC events and activities in their respective communities.
"Jamie and Liz are dedicated and passionate about their line of work. Every day, they are tenaciously advocating and striving to prepare our patients and their families for success. Their work truly makes a difference," said Jillian Hildebrandt, clinical support manager.
JRMC Legends are real-life examples for others to follow. Every day, acts of heroism take place in healthcare.
"It is a privilege to present this award to Jamie and Liz," said Mike Delfs, JRMC President & CEO. "Medical social workers help patients and their families throughout the healthcare journey. They also educate on community resources, health insurance coverage and programs available to support them. The work they do is critical to the success of every patient's care."
LOCAL LEGENDS
A legend is not created in a day. It takes consistent commitment to performing with selfless purpose. A legend commits every day — without concern for recognition — to being irreplaceable.
Each month, JRMC employees cast nominations for the next Legend Award winner. Once nominations are in, JRMC's 350 employees vote on their favorite nominees and their stories.
The purpose of the Legend Award is to inspire, motivate and capture the moments that define JRMC. The goal is to help employees and volunteers connect to the sense of purpose that brought them to the organization. This award is for employees who've made extreme efforts to benefit their patients and colleagues.
The Legend Award first began in 2012. Since then, more than 40 individuals have been named Legends and more than 130 employees were nominated.
LEARN MORE: