One Gackle farmer and rancher says he's ready to get back to work after completing his cancer care journey.
"I went in for my yearly physical and regular colonoscopy," Steven Moos said. "That's when they found something." The CAT scan confirmed cancer.
The American Cancer Society recommends most individuals over the age of 50 have a colonoscopy every ten years. People at higher risk may need the screening more often.
Sanford Health General Surgeon Dr. Robert McMillan removed Moos' cancer in an operating room at Jamestown Regional Medical Center. Moos then completed four chemotherapy treatments, each three weeks apart, at the JRMC Cancer Center.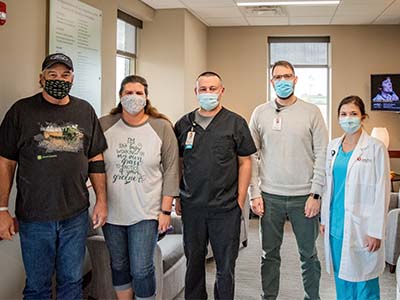 MILES MATTER
"It is amazing to have all of our services here. We live in Gackle, and to have an extra 100 miles each way would be difficult," Moos said. Post-surgery, Steven spent three days in the hospital. His wife Patty was by his side his whole journey. She teared up, talking about how glad she was that she could stay with him.
"Yes, traveling for care is a financial burden but also emotionally draining," she said. "I'm glad I could be by his side because we are close."
When asked if anyone specific had made a difference in care, Steven said, "Everyone."
The JRMC Cancer Center opened in 2019 in partnership with Sanford Health. Since then, it has saved families like the Mooses more than 500,000 miles of travel. Each month, the cancer center team offers more than 200 chemotherapy infusions in six naturally lit, private infusion bays.
The Moos family says they couldn't have asked for better. Moos celebrated his JRMC Cancer Center graduation on Oct. 15.
To learn more about care at JRMC or to schedule an appointment, visit JRMC's website.