Denise Schrade struggled with 'excruciating pain' for decades.
The 44-year-old is a wife, mom to two daughters and works full-time in Jamestown. In her free time, she likes golfing and spending time with family.
However, what she loved to do most could be challenging. Each month, Schrade experienced cramps so bad that she missed days of school or work.
"Women in our family are blessed with awful (menstrual) cycles," she said. "My entire life has been – every three weeks – pain."
She tried home remedies. She tried medication and therapies. Nothing gave her relief. For decades, she remembers seeking help and not finding it.
"The doctors told me they didn't think it was so bad," she said. "I started to feel crazy or that I was weak."
Because of the pain, Schrade said she rearranged her life, delaying activities and events every month.
"It hurt so much, I had to put things off. I could not do anything important for those three days. If I left my heating pad, I could not stand up" she said. "It gets mentally and physically exhausting when you're always in that kind of pain and when you know it's coming."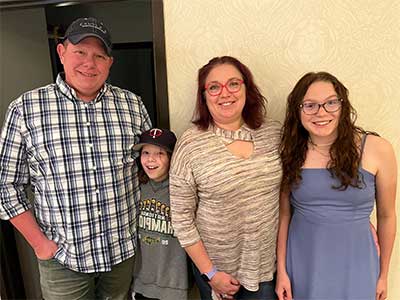 So, when Schrade overheard colleagues talking about a new OB/GYN at Jamestown Regional Medical Center, she scheduled an appointment.
Dr. Gregg McAdoo joined the JRMC team in 2021. The Williston, N.D. native has more than 20 years of experience offering specialized care for women. Dr. McAdoo as well as Dr. Emily Stromquist and Nurse Practitioner Makenzie Breitbach offer 24/7 women's care for the community.
At her first visit, Dr. McAdoo identified the issue – fibroids.
Fibroids are tumors that develop in the uterus. More than 70% of women will develop them in their lifetime, though not all women require treatment. Though the tumors are usually benign, they can cause extreme pain. Fibroids can also cause heavy or prolonged periods, bleeding between periods, frequent urination and trouble conceiving.
Dr. McAdoo also offered a treatment option – a full hysterectomy. A hysterectomy is a surgical procedure to remove the uterus. OB/GYNs may recommend this surgery when a woman experiences uterine fibroids, endometriosis, pelvic support problems, abnormal uterine bleeding, chronic pain and gynecologic cancer.
"Patients often suffer from far too long with conditions that can easily be treated and resolved. Almost all hysterectomy patients say that they wish they had done the surgery sooner," Dr. McAdoo said.
RECOVERY AND RELIEF
Two months after surgery, Schrade says she feels "amazing."
"Recovery was one of the easiest things I have been through. The pain of recovery was not even close to what I had been through each month before," she said. "This is one of the best decisions I've ever made."
Schrade says women do not have to feel embarrassed about seeking this kind of care. They also don't have to wait, and they don't have to travel. Relief is right here.
"Stop going to other towns and not get answers. Go to Jamestown and get answers here," she said. "The Jamestown team took care of me. This is what I wanted for years."
Today, Schrade said she is feeling better and looking to get more active. She is planning a trip to New York City wither her daughters next summer.
LEARN MORE