Devin Beach was eight years old when he began training for varsity-level matches.
The Jamestown High School senior is a three-sport athlete – basketball, track and football. In football, he also plays three different positions – offense, defense and special teams. He's one of five students on the 60-person team to do so.
"Basically, my whole life is sports," Devin said, saying his older brother Travis holds the school record in javelin and their dad, David Beach, coaches JHS track. "We play to win."
Injuries postponed playing, however. In 2020, four ankle injuries in basketball sidelined Devin for the remainder of that season and the football season too.
Devin, who took eighth in state for the triple jump, collided with a wall after shooting a layup at a game in Carrington. The crash tore the anterior talofibular ligament and broke a bone in his right ankle.
MOTHERS KNOW BEST
That's when his mom, Sue Beach, took him to see JRMC Podiatrist/Foot & Ankle Surgeon Dr. Rachael Renschler. Sue is a family nurse practitioner.
"Dr. Renschler suggested conservative treatment to avoid surgery, which is not always the direction a surgeon follows. However, when we realized conservative management wouldn't allow Devin to return to playing sports at full capacity, she offered surgery that utilizes very cool technology – InternalBrace Ligament Augmentation. The type of injury he had can end a person's sports career. But her knowledge of the technology and surgical training was a game-changer for Devin."
Dr. Renschler is conservative in her management of foot and ankle injuries because she treats the whole patient. Knowing recovery was lengthy, Dr. Renschler treated Devin with non-surgical options so he could continue playing.
"Devin's passion is clear," she said. "He wanted to remain in the game so we created a way for him to safely do that. We customize treatment plans for all of our patients. I offer options and each individual chooses which one is the best fit for their life."
She tried multiple treatments including a walking cast, ankle bracing, physical therapy and shoe modification.
"Once I twisted it again though, it was time for surgery," Devin said.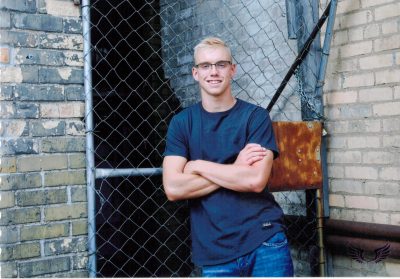 The surgery – a lateral ankle stabilization and ligament repair – required three months of recovery. Devin missed the football season and when it was time for the playoffs, he missed those too. COVID forced a forfeit.
"When sports are your whole life like mine, when you have to miss a season – it was a lot," he said, saying physical injuries impact a person's mental health as well.
GETTING BACK IN THE GAME
A year later, Devin rolled his right ankle in basketball. Again, he broke a bone.
This time, Podiatrist/Foot & Ankle Surgeon Dr. Kayla Emter talked him through his options. The family chose her because Dr. Emter offered to see Devin when Dr. Renschler was out of the office.
"Dr. Renschler and Dr. Emter make an excellent team. Their knowledge and talent are a step above the rest," Sue said.
Devin agreed.
"Dr. Emter really listened and worked with me to find a treatment that could get me back in the game."
Devin rehabbed with JRMC Athletic Trainer Nolan Love. JRMC is the official sports medicine team of the Jamestown High School Blue Jays.
"It's a privilege to work with these students," Nolan said. "I was a student athlete for Jamestown High School too, so I know how important it is to get back in the game."
Four weeks after surgery, Beach was back – and colleges were calling.
He accepted a scholarship offer from Minnesota State University in Moorhead. Seniors usually sign in spring. Devin verbally committed six months earlier.
Today, JHS is ranked No. 2 in the state for football. The state championship, Devin said, is a lifelong goal.
"I'm way stronger than I was," he said. "To come back and compete at 100% after two ankle injuries is a big deal."
Head Football Coach Bill Nelson said he "whole-heartedly" agrees. Playing both offense and defense is rare and a testament to Devin's athletism.
"Devin is a talented young man," he said. "We've got a lot of tremendous athletes and Devin fits right in with that."
LEARN MORE