Jamestown Regional Medical Center (JRMC) recently announced Amy Walz as its most recent Legend Award recipient.
The Legend Award is the most prestigious distinction for a JRMC employee. Legends are employees who exceed expectations and are THE difference in the lives of those they serve.
Physical Therapist Sherry Benson nominated Walz, one of the medical center's occupational therapists.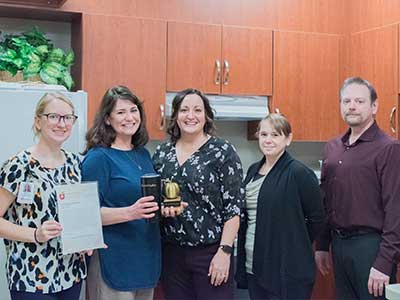 "This year, Amy has gone above and beyond for our travel occupational therapist," Benson wrote in the nomination. JRMC contracts travel employees when it needs support with staffing. "This travel therapist started with JRMC on December 12 and was quickly welcomed to our state by a three-day winter storm. Amy made sure this therapist had everything she needed — picking her up and driving her to/from work as her car couldn't make it out of her apartment lot."
Throughout the blizzard, Walz arrived at work early and stayed late, ensuring patients received needed care.
"After all that, our teams spotted Amy taking our traveling therapist to the grocery store to ensure she had food and necessities. Amy also invited this therapist to her family's Christmas. Amy is the definition of a servant leader and JRMC is lucky to have her as part of our community," Benson said.
In her 15 years with JRMC, these are two recent examples of the countless times Walz has exceeded expectations, said Tracy Anderson, manager of the rehabilitation department.
"Amy is legendary in so many ways. She consistently goes above and beyond for patients," she said.
Walz joined the JRMC team in 2008.
LOCAL LEGENDS
JRMC Legends are real-life examples for others to follow. Every day, acts of heroism take place in healthcare.
"Amy is very deserving of this award," said Mike Delfs, JRMC President & CEO. "Rehab teams work to create a positive impact in the lives of those they serve. Amy is an example of that – both for her patients and her team."
A legend is not created in a day. It takes consistent commitment to performing with selfless purpose. A legend commits every day — without concern for recognition — to being irreplaceable.
Each month, JRMC employees cast nominations for the next Legend Award winner. Once nominations are in, JRMC's 350 employees vote on their favorite nominees and their stories.
The purpose of the Legend Award is to inspire, motivate and capture the moments that define JRMC. The goal is to help employees and volunteers connect to the sense of purpose that brought them to the organization. This award is for employees who've made extreme efforts to benefit their patients and colleagues.
"The nominations inspire staff members to continually be the best, exceed expectations and be THE difference in the lives of those we serve," Delfs said. "Amy is a perfect recipient for this award. She embodies legendary care in this community."
The Legend Award first began in 2012. Since then, JRMC named more than 40 individuals Legends and employees nominated more than 125 of their peers.
LEARN MORE: