A Holiday Tradition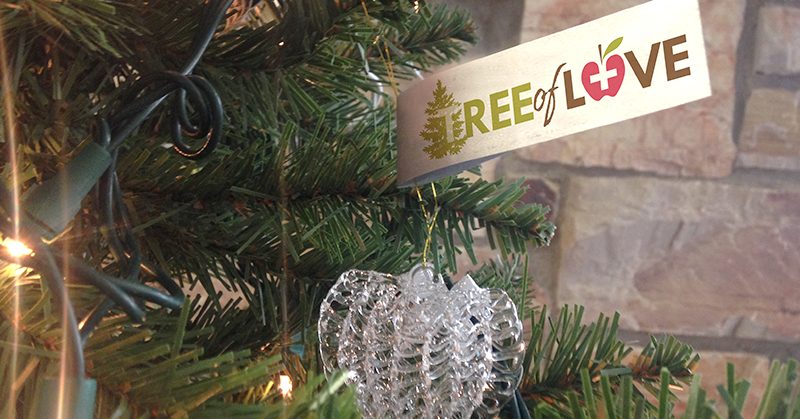 Join us at JRMC during the holiday season to witness the Tree of Love radiantly adorned with beautiful glass heart ornaments. Each ornament is a testament to the enduring memory of those who have left us and a tribute to those who hold a special place in our hearts. It is a celebration of the love and warmth that defines this festive time of year.
DEDICATION & SOCIAL
4 pm | Tuesday, December 19, 2023
Followed by
Ornament Pick-up until 5:30 pm
This holiday season, consider making a donation to the JRMC Foundation and partake in the joy of giving. Your contribution provides the opportunity to have a personalized ornament placed on the Tree of Love, a beautiful dedication to someone who has touched your life in a unique way.
We extend a heartfelt invitation to the community to join us for a special tree dedication and social event. Come together as we celebrate the heart of the holiday season, honoring the cherished connections that make life truly meaningful. Embrace the spirit of giving, love, and remembrance at the JRMC Foundation's Tree of Love.
Lists include contributions received by JRMC Foundation as of November 22, 2023. We will continue to accept gifts and update the lists through the end of the year.
JRMC Foundation dedicates complimentary ornaments to individual supporters, volunteers and benefactors who have named us in their will or obituary. Family members and friends are invited to a special dedication.
Noah A. Ackerman
Rick L. Alfstad
Kristen Allen
Nancy J. Allen
Arlene Altringer
Patrick L. Altringer
Karen Aman
Jacqueline Y. Ames
Eugene A. Anderson
Kenneth L. Anderson
Rhea A. Anderson
Vernon R. Anderson
Aileen Astrup
Fern K. Barnick
Kenneth E. Barnick
Erva Bartlett
Brycen J. Baumbach
Harold P. Bensch
Marie Bensch
Hazel M. Berg
Lynnae Bergman
Bailey J. Bernstein
Martha M. Berube
Darlene Bickler
Glen A. Blanchard
Sandy Bobzien
Ralph Brevig
Richard Britton
Cody A. Bruner
Annamae Buchholtz
Idele J. Burkle
Gerald Carlson
Raymond Carow
Richard M. Carow
Mardelle L. Caufield
Thomas Christensen
Lynn R. Christopherson
Steve J. Cichos
John D. Corell
Anthony Crissman
Darlene Dagman
Dorothy L. Dahl
Michael J. Dahlgren
Vern W. Dally
Douglas W. Daugs
Jay Dempsey
James A. Dennis
Rhonda J. DeVries
Alma Dewald
Donald M. Didier
Rylee R. Dingmann
Lillian V. Dixon
Helen L. Doeling
Levi Dwelle
Julie K. Eberhardt
Alexander J. Ebertz
Darlene Elsner
Gary M. Erickson
Marvin H. Erickson
Joseph W. Eversvik
Roger D. Feiken
Perry Finck
Richard J. Finck
Rodney W. Finck
Connor R. Forde
Kristofer M. Forester
Bradley P. Fowler
Sandra R. Franke
Leon Freeberg
Connie Fregien
Kenneth E. Frey
Mark S. Frey
Sharon L. Fuher
William F. Gackle
Terry Geerdes
Arlene Geisinger
Mylo Gilbertson
Brian Goecke
Lawrence F. Goehring
Todd P. Goter
Darlene A. Greenlund
Imogene Greer
Travis L. Greshik
Alvin Gruebele
Nora Gums
Lynne D. Haakenson
Mary L. Haines
Avis Halverson
Shirley L. Harrison
Margaret R. Haugen
Donnly Haugland
Roger Haut
Darlene Heintz
Arthur L. Henke
Lila M. Hennings
Betty I. Henrickson
Raynard G. Herr
Elsie Hieb
Arlen G. Hillius
Madelyn Hoffer
Allen G. Huber
Dorothy Huckle
Carolyn J. Hunt
Leona A. Hust
Carlton S. Huus
David Janke
Judith Johnk
Jerome R. Johnson
Raymond J. Johnson
Lillian Jonietz
Theresa M. Kaiser Risner
Lyman F. Keim
Lucille L. Kennedy
Gaye Ketelsen
James L. Klein
Martha Klingenberg
Ivy Klose
LeRoy J. Koenig
Carrie L. Kraft
Terry J. Kuntz
Jerry A. Lagodinski
Patricia A. Lampert
Cheryl L. Leean
Ilah Lettenmaier
Daniel R. Lies
Brian Lindsay
Charlotte F. Lindstrom
Gordon L. Loper
Elvin H. Luck
Wyatt A. Luck
Mona J. Luehr
Diane Luiken Spangler
James E. Lunde
Linda R. Lyche
Eunice D. MacFarlane
Bernice Magnussen
Leslie C. Manstrom
Robert Maresh
Aaron L. Marsalek
Jeffrey O. McClean
Mac McPherson
Goldie L. Mehlhoff
Lillian E. Meyer
Tammy R. Michaelson
Lonny L. Michel
Lorraine M. Miedema
Edris Miller
Gloria A. Mohaupt
Stella Molstad
Cherry Moser
Deloris Mosher
Gloria Mueller
Robert K. Muhs
Marcella L. Murch
Faye L. Murie
Bertha V. Murphy
Naomi Nagel
Sylvia I. Nathan
Gertrude R. Neumiller
James C. Nitschke
Shirley M. Nitschke
Roger Nogosek
Bruce W. Ohland
Keith Olson
Terri R. Opatz
David F. Orr
Ellen D. Orr
Alana A. Paiement
Rae Ann Paulson
Larry D. Pecka
Lois E. Peplinski
Lyle Perleberg
Marlys S. Pieske
Grace O. Pospichal
Edith Raatz
Larry Raatz
Bryan L. Radtke
Diana F. Reichenberger
Angela L. Reidburn
Alma B. Reinke
Barbara Remmick
Leona Reuer
Penny Ritterbusch
Joyce E. Rivinius
Elsie M. Robyt
Myrna A. Ronholm
Joyce E. Roorda
Gary A. Rosenau
Norman Rost
Arlene J. Rudolph
Susan L. Sad
Betty L. Schaible
Donna M. Schelske
Ida L. Schmitt
Sherrill R. Schmitt
Deborah Schott
Deloris J. Schroeder
Wilmer D. Schwarz
Ronald Schwind
Erna Schwind
Ronald Schwind
Douglas C. Scrivens
Gloria M. Selnes
Jack Sharpe
Joseph Sitzmann
Morris D. Sjostrom
Daryl Sommerdorf
Kathy J. Spitzer
Irene Staiger
Francis Steele
Robert Steele
Virginia C. Stevens
Allen O. Storkson
Bruce Struble
William Sutherland
Sherry A. Syverson
Karen A. Theis
John C. Totenhagen
Patricia A. Tottingham
Luella Traiser
Marilyn A. Trautman
William Trecker
Donald L. Triebold
Ernest Trudeau
Charlotte A. Uehran
Patricia M. Umsted
Lindsay Valenta
Alden D. Vannett
Irene Walch
Gloria K. Wanamaker
Marvin S. Wanamaker
Karolina Wegenast
Delores Wehler Simmers
Angie Werner
Ruth G. Williams
Gerald H. Willson
Patrick A. Windish
Lloyd E. Windjue
Dale M. Wittmier
Renee M. Woehl
Nancy R. Wolf
Alice A. Wolff
Christian T. Woods
Marjorie Wright
Duane Yetterboe
Jeanne P. Ziegelman
Bernice B. Zimney