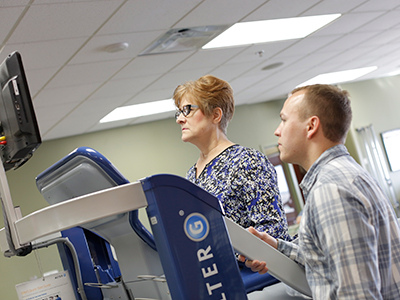 Now that Santa's work is done, is it your cholesterol that needs to climb down the chimney? Perhaps your belly is like a bowl full of jelly?
Santa won't put you on the naughty list for sneaking a sugar cookie, but he does want to bring you tidings of great health this year.
The New Year, New You wellness challenge begins January 8. For eight weeks, NYNY helps Jamestown and the surrounding communities put a little more "Dasher" and "Dancer" in their holiday season.
"We are surrounded by treats and good food during the holiday, so making healthy choices can be tricky," said Tracy Anderson, physical therapist, and JRMC Rehabilitation Manager. "New Year New You is a great way to kickoff 2018 with a fresh start."
The challenge costs $10 and includes a free t-shirt. Every year, about 400 people participate through their employers, churches, families or other groups.
This year, NYNY is more customized. In 2018, participants can focus on the goals that mean most to them.
As in the past, challenge participants earn points for diet and exercise. In addition, participants earn points for improving their mental health, social health and obtaining recommended preventative care.
Team leaders are asked to tally the points each week and submit by 10 a.m. on the following Tuesday. Details regarding challenges as well as each week's results will be available in The Jamestown Sun and on JRMC's New Year New You website.
Teams compete against one another to become the fittest, healthiest team in the community.
"The great news is, everyone who creates a new healthy habit is a winner," Anderson said.