The air is getting colder, days shorter and spirit of giving stronger.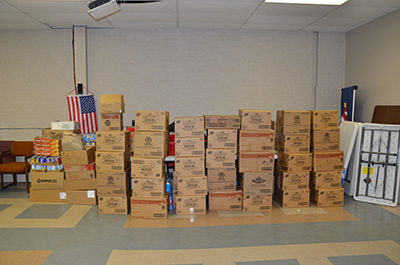 Jamestown Regional Medical Center recently joined forces with Cargill, Cavendish Farms, Newman Signs, RealTruck.com and UTC Aerospace Systems for a two-week community food drive. Employees from each business donated a total of 11,836 non-perishable food items, toiletries and monetary gifts to Community Action and The Salvation Army of Jamestown.
"No one should ever have to go hungry," said Katie Mittleider, clinical services assistant at JRMC. Mittleider has helped organize this event for the past three years. "If donating five items helps feed someone in need, you are making a huge difference."
JRMC administrative clerk, Bonny Lippert, has a special passion for this food drive.
"I used to work at a food pantry, so I've seen firsthand how empty these shelves can get," Lippert said. "It's important for the community to come together for those in need."
In 2016, 11.3 percent of Stutsman County residents were living below the poverty level. Sarah Oberlander, food pantry coordinator at Community Action, explained the extra need for support during the holiday season.
"We help families going through hard times. A food drive like this can fill the shelves and help get us through the winter," Oberlander said.
For more information on ways to give, contact Community Action at (701) 252-1821 or The Salvation Army at (701) 252-0290.