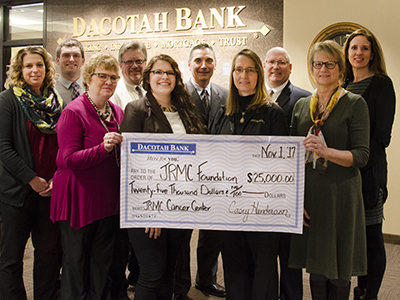 Whether its utilities, infrastructure, financial services or healthcare, rural communities require basic services to thrive.
As a community bank with roots in the Upper Midwest, Dacotah Bank knows how important these services are to rural America. That's why it chose the Jamestown Regional Medical Center Cancer Center as its recipient of a $25,000 gift.
"Dacotah Bank came to Jamestown because the town is a hub for central North Dakota," said Casey Henderson, Dacotah Bank's Jamestown market president. "Dacotah Bank wants to be a vital member of the community. We realize that there are many organizations to support, so we take pride in working with multiple groups and investing in our employees so they can be out in the community and involved."
The JRMC Cancer Center will offer chemotherapy services to more than 100 area individuals each month. Those are services these individuals would otherwise have to drive 100 miles or more to receive.
"When you or a loved one is sick, those miles matter," said JRMC Foundation Director Lisa Jackson. "Studies show the care is better when it is close to home."
Like JRMC, Dacotah Bank knows that even small organizations can be state-of-the-art. Dacotah Bank remains one of the largest Dakota-grown state-charted banks in the Upper Midwest. Dacotah Bank is also one of America's largest lenders to agriculture and consistently ranks in the top 20.
To learn more about the JRMC Cancer Center, call (701) 952-4880.